Syria
Syria warns of 'serious repercussions' after Israeli airstrikes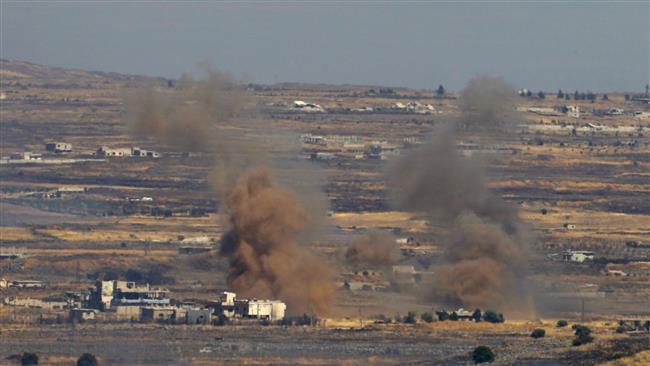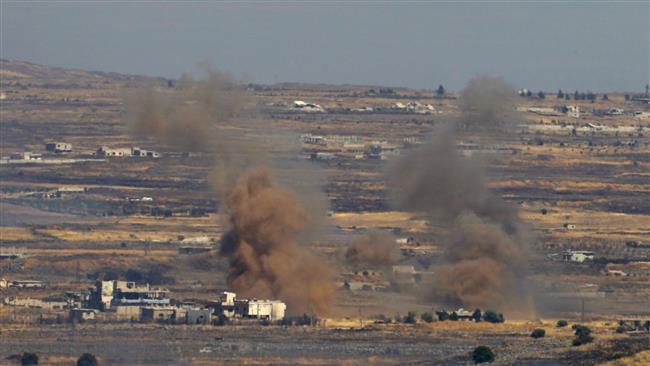 Syria's army has warned Israel against "serious repercussions" of further attacks on the Arab country following airstrikes conducted against its territory.
The Syrian military issued the warning on Sunday, after Israel launched airstrikes on the Golan Heights for the second day at the exact time Nusra Front terrorists launched an offensive in the area.
In a statement, the Syrian army's General Command described the attacks as a "desperate attempt" to support terrorist groups. Officials have already accused Israel of effectively providing air cover for the Takfiri terrorists.
The army warned against the risks posed by such hostile acts, adding it "holds the Israeli enemy responsible for the serious repercussions if such acts reoccur under any pretext."
The statement further stressed the Syrian army's determination to crush the terrorist groups, "which are the Israeli enemy's proxy in the area."
The airstrikes came after stray artillery shells allegedly landed in the Golan Heights, a fertile Syrian plateau which is occupied by Israel. This is a common reaction by Israel to stray shells, which it has used to repeatedly attack the Syrian military over the course of the protracted war within the Arab country.
Israel is known to be providing aid, including medical treatment, to terrorists in this area.
A military source said on Saturday that the Syrian army and allied forces had repelled a massive assault by the al-Nusra terrorists near al-Baath City in southern Quneitra Province and inflicted heavy losses on them.
The source said an Israeli warplane conducted air raids on a parking lot and a residential building in the same area as a counterterrorism operation got underway, killing civilians and causing material damage.
The Israeli army claimed its strikes had targeted Syria's military installations in response to an alleged firing of 10 projectiles from the Arab country at the occupied territories.
Syria has been gripped by foreign-backed militancy since March 2011. The Syrian government says Tel Aviv and its Western and regional allies are aiding Takfiri militant groups wreaking havoc in the country.
Israel regularly hits positions held by the Syrian army in the Golan Heights, describing the attacks as retaliatory. Syria says the raids aim to help Takfiri militants fighting against government forces.
On several occasions, the Syrian army has confiscated Israeli-made arms and military equipment from terrorists fighting the government forces. There are also reports that Israel has been providing medical treatment to the extremists wounded in Syria.
Last week, United Nations Secretary General Antonio Guterres expressed concerns about a spike in contacts between Israeli armed forces and Syria militants in recent months, saying it could lead to escalation and cause harm to UN observers deployed to the Golan Heights.
The Wall Street Journal recently said Israel has been providing Takfiri terrorists in Syria's Golan Heights with a steady flow of funds and medical supplies.