Syria
Syria writing last chapter in fight against terrorism: FM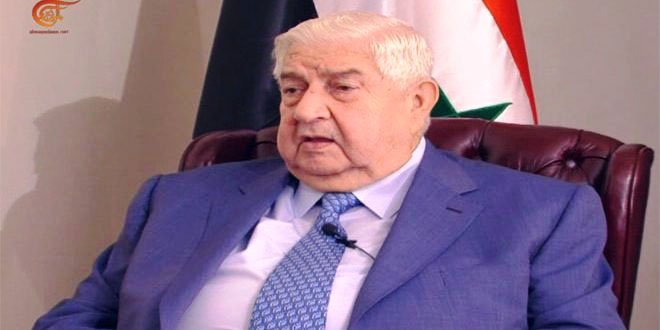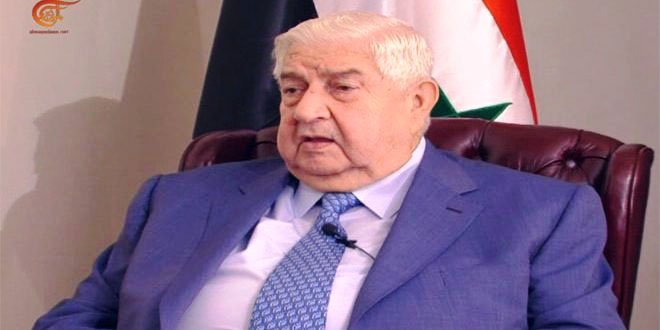 Syrian Foreign and Expatriates Minister Walid al-Moallem affirmed on Tuesday that Syria is writing now the last chapter in the fight against terrorism that includes liberating Idleb, Aleppo north-eastern countryside reaching to Manbij and East of Euphrates.
"Sochi agreement has been done between the Russian and Turkish sides, preceded by a Syrian-Russian coordination regarding this issue," al-Moallem told al-Mayadeen TV in an interview aired today, adding "We believe that Turkey is able to implement all its obligations because it knows the name of every terrorist in Idleb and all of them are subject to the orders of the Turkish intelligence," SANA reported from New York.
He added that the achievements of the Syrian Arab army, with help of friends and allies, in liberating more than 90% of the Syrian territories from terrorism, have annoyed Syria's enemies, so, they launched their latest aggression on Lattakia to prolong the span of crisis in service of Israel.
Al-Moallem added that when Syria gets the S-300 missiles system from Russia, its airspace will be protected from any Israeli aggression.
He reaffirmed that the Syrian-Iranian relations are not subject to any bargain, adding that the presence of Iranian advisers in Syria became under a request from the Syrian government.
Al-Moallem stressed that the presence of US forces in al-Tanf region is illegitimate; adding that Washington was fighting everything in Syria except terrorism and it still protects Daesh terrorists in a pocket along the Syrian-Iraqi borders.
Meanwhile, the Syrian Foreign Minister affirmed that no place for those who conspired against Syria in the process of reconstruction, they are not welcomed, and the priority will be for the friendly states which supported Syria in the fight against terrorism.