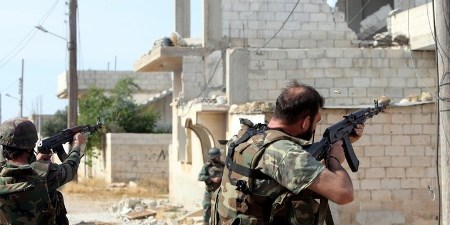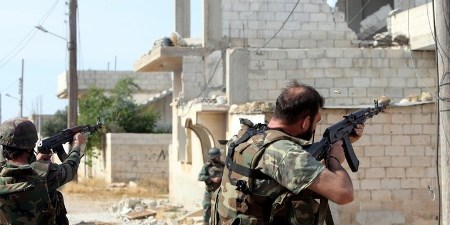 Militants have targeted residential areas in the city of Damascus with mortar shells, causing the martyrdom of a number of civilians and the injury of others. In the meantime, Syrian Arab Army achieved a new progress in several areas of Aleppo and its countryside in ongoing battles with armed militias.
Militants' shells struck Damascus
Two civilians were martyred and others wounded after two shells landed in al-Duailaa intersection in Damascus, moreover, other shells have been fired on both areas of al-Qassaa and Bab Touma, one of the shells hit Lubana al-Hilaliya school, injuring a teacher.
Insurgents have also shelled al-Sheik Reslan area in al-Qassaa, al-Tahrir square and al-Abbasiyeen garage.
Armed forces seize two factories and advance more
Units of armed forces have took control of both factories of batteries and cables near Brigade 80 in southern countryside of Aleppo following heavy battles fought with gunmen in the vicinity of the mentioned factories.
Moreover, army has advanced to Saif al-Dawlah neighborhood and seized control over a number of sites.
Breaking News Network correspondent pointed out that the clashes are still taking place between the army and insurgents in the very neighborhood.
Syrian Arab Army operates in Idlib
Syrian Arab Army units have completely destroyed ammo's and arms warehouse in Bezi farm in Areeha countryside and killed all gunmen who were inside.
Army units have hit militants' locations in the city of Saraqeb in Idlib countryside, destroying many of them and killing more than 30 armed men besides destroying a vehicle, two other cars equipped with Dushka machineguns and a car was carrying gunmen.
In cooperation with Special Missions Battalion, army units targeted 3 militant headquarters in Kafr-latah town of al-Arbaeen Mount; the sites are al-Madraseh al-Fuqanieh, Hmaishou square and the main entrance of the town, killing more than 24 insurgents and wounding others besides destroying a pickup car equipped with 14.5 machinegun, as well as 10 cars were used to transport weapons and ammunitions.