Syria
Syrian Armed Force Intensify Attacks on ISIL's Positions Near Deir Ezzur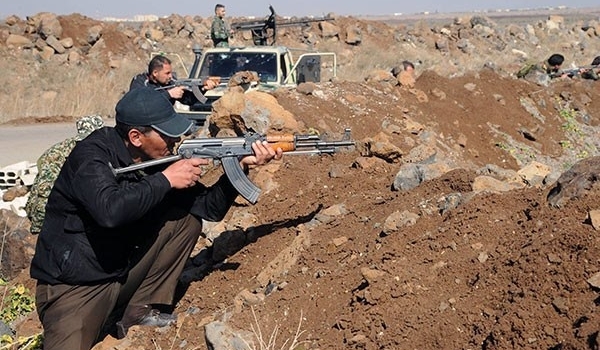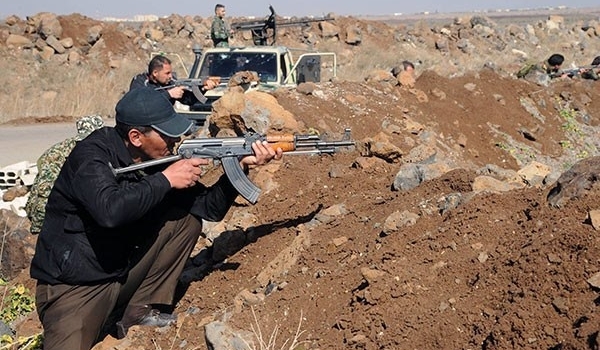 Syrian Army troops and Air Force intensified their assaults on ISIL's defense lines and movements in the Southern outskirts of Deir Ezzur city to end the terrorists' siege on government forces in the city's military airport.
The army's artillery and missile units targeted heavily ISIL's gatherings and movements near al-Thardah mountain in the Southern countryside of Deir Ezzur, killing a number of terrorists and destroying their vehicles.
The warplanes meantime carried out a number of combat sorties over ISIL's concentration centers and movements in the region of al-Omal and near the region of al-Maqaber (cemetery), destroying several vehicles and killing a number of militants.
The air raids were aimed at weakening ISIL's defense lines along the road connecting Deir Ezzur to the city's airbase that is under terrorists' siege.
The army units also engaged in fierce clashes with ISIL near the village of Tabiyeh Jazeereh to the North of Deir Ezzur, leaving a number of terrorists dead, including Kuwaiti and Iraqi ones.
The National Defense Force (Syrian popular forces) planted a number of landmines in the village of Hajin in the countryside of Albu Kamal town near the Euphrates River, killing a number of ISIL terrorists.
In relevant development in the Eastern province on Tuesday, the army troops continued to beat back ISIL terrorists from more positions in Deir Ezzur's cemetery, inflicting heavy casualties on the terrorists with the back up of the Russian and Syrian warplanes.
The army soldiers stormed ISIL's defense lines in Deir Ezzur's cemetery and managed to seize control over several more positions.
The army men also targeted two bomb-laden drones of ISIL in the cemetery region and destroyed terrorists' canon in al-Thardah mountain.
The army troops, meantime, targeted a number of ISIL's vehicles near Panorama region.
The Syrian and Russian fighter jets pounded ISIL's movements and concentration centers in the cemetery, al-Ma'amel region on the Southern outskirts of Deir Ezzur, the neighborhood of al-Omal and Bur Saeed street on the Northern outskirts of the city, leaving a number of terrorists dead and wounded.
ISIL's centers and positions in the villages of al-Salehiyeh, al-Baqaliyeh and in the neighborhood of al-Mohandeseen came under air raids of the Syrian and Russian bombers as well.
Battlefield reports said ISIL has sustained large casualties in the air raids.