Syria
Syrian army advances along Lebanon border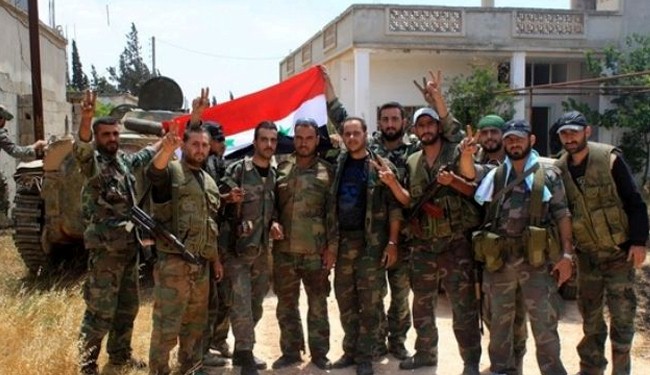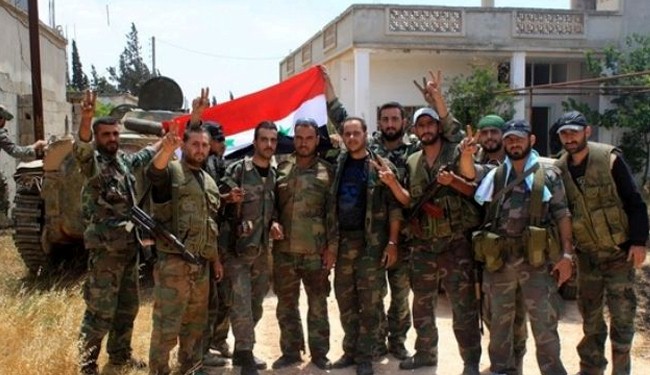 The Syrian army has launched a major operation to regain control of a number of strategic positions along the border with Lebanon, Press TV reports.
The Syrian armed forces backed by local people have managed to retake strategic positions in the Qalamoun region along the Syria-Lebanon border.
The military are now in control of several mountain tops like Ish Anaser and have managed to seal off major parts of the border with Lebanon, including the international highway linking the Syrian capital, Damascus, to Lebanon.
The army has also secured the strategic border town of Kfir Yabus and the hills of Shir Jobeh and Shir Taka. The military says locals are largely contributing to the operation against the Takfiri groups.
"This battle is very difficult. We are advancing from the planes into the mountains. The terrorists have night goggles and many other sophisticated equipment in addition to American-made anti-tank missiles," a Syrian army soldier told Press TV.
The Syrian army is fortifying its position in preparation for an imminent attack on other areas held by the al-Qaeda-affiliated group al-Nusra front. The strategic battles are taking place near the town of the Kfier Yabous, where life is going on as normal for its residents thanks to the measures taken by the Syrian army to secure the area.
Syria open to dialogue with US
Meanwhile, Syrian President Bashar al-Assad has declared his readiness to open a dialogue with the United States.
In an interview with US television network CBS Thursday, Assad said any effort for launching a dialogue between Syria and the US should be based on mutual respect.
"But as principal, in Syria we could say that every dialogue is a positive thing," he said, according to an excerpt of the interview which is to be aired Sunday.
He denied that any contacts have been established between Damascus and Washington so far and said there has been no communication between the two countries yet.
US Secretary of State John Kerry said on March 15 that talks with Syria's Assad may eventually be needed. His proposal triggered harsh reactions and criticism, especially in those countries that support the armed terrorists in Syria.