Syria
Syrian Army Advances in Anti-ISIL Operations in Hama, Captures Terrorists' Military Convoy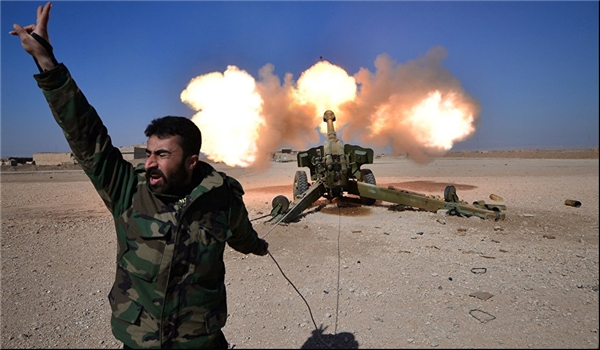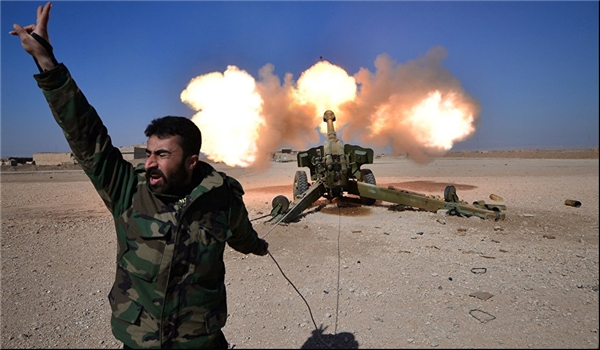 The Syrian army, supported by the air force, continued military operations against the ISIL in Eastern Hama, advancing in new regions.
The army units launched military operations in Eastern Hama and opened their way into the ISIL-held district of Salem, inflicting losses on the terrorists.
Also, the artillery, missile and air force units of the Syrian army targeted ISIL positions in Khat al-Betrol region, including a military convoy, killing tens of militants.
The Syrian fighter jets also pounded ISIL bases in the Eastern parts of Ithriya-North of Abu Jabilat-Aqayrabat, Harmaleh region and Tabarat al-Mariya heights in Eastern Hama.
Also, 2 ISIL vehicles tried to pass through the government-controlled frontline near Ithriyah checkpoint while escaping Eastern Hama to Raqqa, but army soldiers opened fire at them, destroying both vehicles and killing all those in the trucks.
Meantime, the Syrian soldiers shot down an ISIL drone in Khat al-Betrol in the Southeastern parts of the town of Aqarib in al-Salamiyah region.
Relevant reports on Wednesday said that the Syrian army troops, backed up by the country's air force, continued attacking ISIL's defense lines in Eastern Hama and managed to recapture two more villages.
The army soldiers engaged in tough battle with ISIL in Southeastern direction of Sheikh Hilal region and managed to drive terrorists out of the villages of Rasm al-Tineh and al-Maksar al-Shamali.
In the meantime, the army's artillery and missile units and aircraft pounded ISIL's concentration centers and movements in the villages and farms of Jani al-Abawi, Maksa al-Shamali, Maksar al-Janoubi, Tabareh al-Dibeh, Abu al-Ezeh, Abu Habilat, Qalbi al-Thowar, Abu Hanaya, al-Tanahej and in surrounding of Tal (hill) Hawir in Eastern Hama.
Tens of ISIL terrorists were killed and wounded and several military vehicles of them were destroyed in the attacks.