Syria
Syrian Army Advances in Khaldiyeh, Continues Battles in Damascus Countryside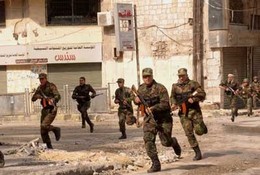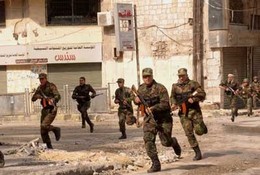 The Syrian Army continued pursuing the foreign-backed militants in Homs and its countryside, as it proceeded fight in Damascus countryside.
Syrian news agency, SANA, quoted a source in Homs as saying that SyrianSyrian Army armed forces have made a "considerable advancement in Khaldiyeh neighborhood in Homs and eliminated a large number of terrorists."
The source added that "a number of terrorists were targeted in Bab Hud neighborhood," in which several were killed.
The army also destroyed several vehicles belonging to the terrorists in Talbiseh in Homs countryside in addition to killing and injuring several terrorists.
Meanwhile, the Syrian army carried out a series of qualitative operations against armed groups and their dens in eastern Ghouta and the southern and southwestern countryside of Damascus, according to SANA.
The agency added that several militants were killed, among them non-Syrians.
SANA quoted a source as saying that an engineering unit dismantled two explosive devices weighing between 30-60 kg that armed groups planted near Toyota Company on Damascus-Homs road, in addition to confiscating several surveillance cameras.
The source added that a number of militants were killed near the water tank in Harasta, among them Abdul-Rahman Eyoun.
In Damascus southern countryside, army units carried out a series of operation in Hijjera and al-Ziabieh towns as a mortar cannon and heavy machinegun were destroyed in Hijjera, SANA said, adding that "several terrorists were killed."