Syria
Syrian Army, Air Force Heavily Pound Terrorists' Centers in Aleppo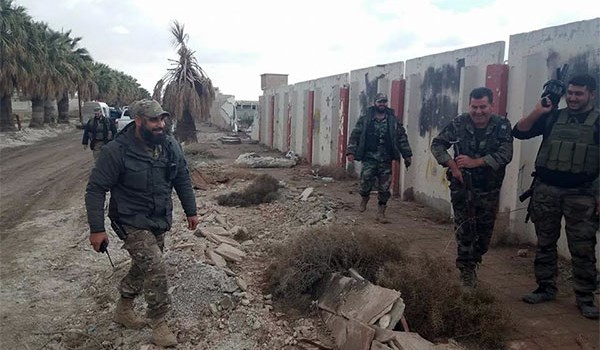 The Syrian Army launched air and ground strikes on Ankara-backed militants across Aleppo province on Tuesday.
The Syria Army engaged in fierce clashes with Faylaq al-Sales terrorists as artillery units pounded the Ankara-backed militants' military positions near the town of al-Bab in Northern Aleppo, the Arabic-language al-Watan newspaper reported.
Field sources, meantime, reported that several military vehicles of the Turkey-backed terrorists were destroyed in clashes with the Syrian army, adding that several militants were killed in exchange of fire.
The sources further said that the Syrian Army's artillery units also pounded the terrorists' military positions in the town of Khalseh in Southern Aleppo.
The Syrian Air Force carried out several airstrikes over territories South-West of Aleppo province, AMN reported.
According to a military source in Aleppo city, the Syrian Air Force specifically targeted the Regiment 46 Base that is located just North of the provincial borderline of Idlib.
The heavy bombardment by the Syrian Air Force came just days after the Syrian Army sent a large number of reinforcements to the Southern Aleppo town of Al-Hadher.
In a relevant development on Sunday, Kurdish media said that the Syrian and Russian armies had dispatched a large number of troops to Northern Hama and built new military positions there to confront a possible aggression by the Turkish Army.
The Xber24 news website reported that the Russian troops have built four military points in the city of Tal Rafat in Northern Syria to support the Syrian Army in the war on terrorism.
It pointed to the arrival of a large number of Russian Army forces together with heavy weapons to the military points and equipment of these bases, and said that these forces have reinforced their military points in the town of Kashta'ar in Northern Aleppo and some new commanders have also been appointed to the mission.
Meantime, it said that the Russian military reinforcements came as differences have intensified between the Turkish and Russian sides after Ankara supported Tahrir al-Sham in its attacks on the Syrian Army.
According to a military source in Aleppo, the Syrian Army has also sent reinforcements from the capital, Damascus, and Homs to the Southern countryside of the province. The reinforcements have reportedly arrived at the key town of Al-Hadher.
The source told Al-Masdar that the Syrian Army is preparing to launch an offensive around the key town of Tal Al-'Eis, which they briefly captured during their late 2015 offensive.