Syria
Syrian Army Continues Operations across Country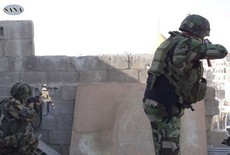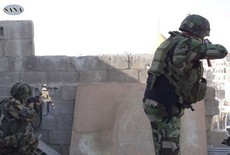 Units of the Syrian armed forces on Thursday targeted terrorists in a number of cities and areas, killing scores of them and destroying their hideouts and vehicles, SANA reported.Syria Army
The Syrian army ambushed scores of terrorists in the expansion project in the residential city of Adra in Damascus Countryside.
Large amounts of the ambushed terrorists' weapons and ammunition were seized, including BKC machine guns and automatic rifles.
A unit of the Syrian army destroyed terrorists' boats loaded with weapons and ammunition in Kissin bay in al-Rastan Lake in Homs province.
Several terrorists' dens were destroyed to the west of the Sport Club and al-Ashtar square in al-Rastan city, while an armed terrorist group was wholly eliminated and its members' weapons were destroyed in Deir Foul village.
The Syrian army killed destroyed a number of cars transporting terrorists' weapons and ammunition between the villages of Burj Qa'I and Kissin in al-Houleh area, leaving many of the terrorists dead and wounded.
A chain of special operations were carried out against terrorists' gatherings and dens in the villages and towns of al-Dar al-Kabira and al-Ghasbiyeh in the countryside of Homs. Scores of the terrorists were left dead and wounded.
Units of the Syrian armed forces killed and injured all members of armed terrorist groups in al-Waer neighborhood and the villages of al-Mashjar al-Janoubi and al-Khaldiyeh and in Talbiseh area.
Some of the terrorists were affiliated to the so-called Islamic State in Iraq and al-Sham which is linked to al-Qaeda.
A number of terrorists were killed and injured as their cars were destroyed in al-Zarzor, al-Nakarin, north al-Nayrab, in the vicinity of al-Kindi hospital, Aleppo central prison, the industrial area, west of the thermal station, Rasm Bakro, Deir Hafer, Manbej, Tal Ref'at, Andan, Haritan, Mayer and Tallet al-Ghali.
The source added that cars for terrorists loaded with weapons and ammunition were destroyed at the entrance of Kafr Hamra, Kafr Obeid, Kafr Naha, Kassarat al-Wadihy and Hilan. All terrorists inside the cars were killed.
All members of terrorist groups were killed and eliminated in the youth housings, Hanano, Qadi Askar, al-Fardous, al-Salehin and al-Ma'adi.
A terrorists' infiltration attempt from al-Amerieh to the neighboring safe areas was thwarted.
In the same context, terrorists were killed in Baslieh, Saraqib, Kafr Najd, al-Badrieh, al-Rwaiseh, Sarmin and the surrounding of al-Arbaeen mountain in Idleb.