Syria
Syrian Army Continues Operations, Terrorists Eliminated across Country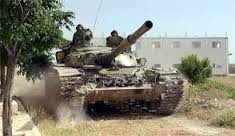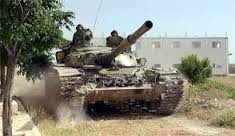 The Syrian Army launched Monday successful military operations against the armed terrorist groups across the country, eliminating huge numbers of terrorists.
Terrorist groups eliminated in Aleppo
Military operations were carried out against terSyrian Armyrorists in Aleppo provinces, targeting terrorists' gatherings in the villages and towns of al-Mansoura, al-Lairamoun, Maaret Artiq, Atareb, Hreitan, Sosian, Maare', Kafarnaha, Khan al-Asl, Khan Toman, Castello, Handarat, Baedin and al-Sheikh Najjar industrial city.
Terrorists' hideouts were also targeted in the neighborhoods of al-Sekkari, Karm al-Maysar, Bani Zed and al-Sheikh Said in Aleppo city, a military source said.
The source added that an army unit clashed with armed terrorist groups in al-Rashidin al-Aoula, killing many terrorists, injuring others and destroying their vehicles and weapons.
Army eliminates terrorists, destroys their vehicles in Idleb
The army units targeted and destroyed a number of vehicles equipped with heavy machineguns in al-Rooj area in Idleb countryside.
A military source told SANA that the army also destroyed a terrorists' hideout in the area, adding that scores of terrorists, including their leader Masaab al-Hamdouni of the Libyan nationality, were killed in the process.
Terrorists' gatherings targeted in Homs countryside
Army units targeted terrorists' gatherings in Taldao, Kisin, Ein Hussein and Wadi al-Mirah to the south of Hessiya in Homs countryside, killing a number of terrorists and injuring others.
Terrorists' gatherings targeted in several areas in Daraa
Army units killed many terrorists and injured others in the area behind Busra Clock in Daraa City, destroying a mortar launcher and a number of cars.
A military source said that army units targeted terrorists' gatherings in the farms to the south of al-Yadouda in Atman town, Dael and Masaken Sajneh in Daraa countryside, killing numbers of the terrorists and destroying their weapons.
Army units inflict heavy losses upon terrorists in Damascus countryside
Units of the army inflicted heavy losses upon the armed terrorist groups and eliminated scores of terrorists, including Saudi and Lebanese terrorists.
SANA reporter said that terrorists from "al-Nusra Front" were killed in al-Mleiha and Kafar Batna and their weapons were destroyed.
In Ein Tarma, a den of an armed terrorist group was destroyed and several terrorists were eliminated, while an army unit eliminated a terrorist group and destroyed its weapons in Douma.
In Harasta, an army unit clashed with an armed terrorist group and eliminated one of its members, while terrorist dens were razed to the ground in Jobar.