Syria
Syrian Army Continues Special Operations against Terrorists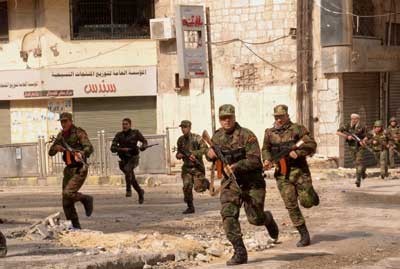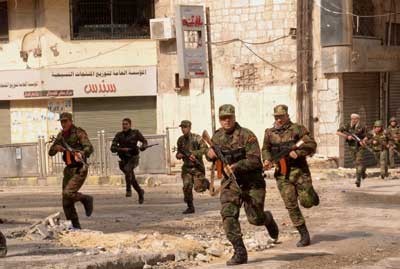 Units of the Armed Forces on Saturday inflicted heavy losses upon terrorist groups in a series of operations targeting their dens in Douma farms, Harasta, Zamalka and Erbin in Damascus Countryside.
SANA reporter quoted an official source in the province as saying that a terrorists' den was destroyed in the farms between Douma and Harasta with all the ammunition and weapons inside.
A number of terrorists were killed in the operation, while others were injured, added the source, noting that among the dead were terrorists Bilal Ghbeis, Mohammad al-Talla, Mohamad Arafeh and Mohammad al-Habboul, leader of an armed terrorist group.
Army units also targeted gatherings of terrorists in Zamalka and Erbin, destroying their vehicles which they used in their movement and transfer of weapons.
The operations resulted in killing a number of terrorists among whom Ahmad Hjeiko, Qarhaman Mashel and Omar Abdul-Rahman were identified.
Terrorists Targeted in Special Operations in Idleb
A unit of the armed forces carried out several accurate, special operations, destroying dens and hideouts of terrorists in Idleb countryside.
SANA reporter quoted a source in the province as saying that the army unit confronted the armed terrorist groups in the surroundings of Wadi al-Daif and other towns, inflicting heavy losses upon the terrorists and destroying their vehicles.
The source added that another army unit targeted gatherings of terrorists who were blocking roads, attacking citizens and looting private and public properties on Sarakeb-Idleb highway and Sarmin, killing a number of them and wounding many others.
A second army unit targeted hideouts of terrorists in al-Nairab, Khan al-Subul and Banesh, inflicting heavy losses upon them.
Army units Kill Terrorists in Homs Countryside
Units of the armed forces today carried out several qualitative operations against armed terrorist groups in al-Rastan, al-Zaafaran, Akrab, Tal Dahab and al-Houleh in Homs countryside.
A military source in Homs told SANA reporter that the operations led to the killing of many terrorists, among them Abdullah al-Hussein, Shamel al-Ahmad, Shuaib al-Qasem, Ridwan Snu, Naser Azouz in addition to destroying a mortar and two vehicles equipped with heavy machineguns.
Other army units destroyed seven missiles, a mortar, two missiles' launching-pads in Akrab, killing a number of terrorists. Malik al-Kurdi, Rashid Kokag, Abdul-Kareem Saad al-Din, Obeida al-Qatebi who was expert in bombing cars, were identified among the killed terrorists.