Syria
Syrian army denies striking displaced camp near Turkey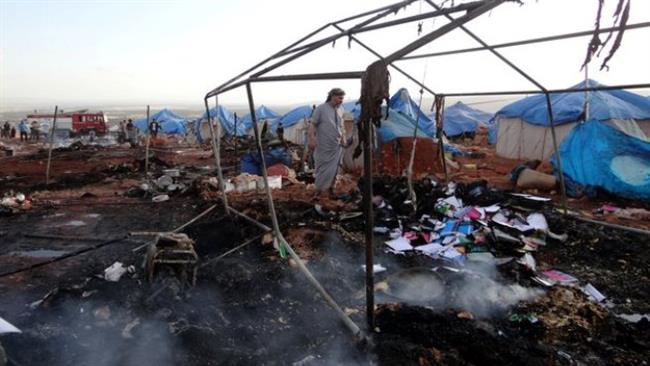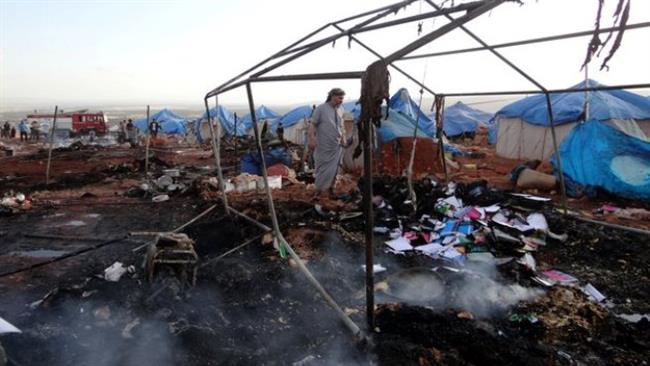 The Syrian military has strongly dismissed media reports that its military aircraft carried out a series of deadly airstrikes against a camp for the internally displaced people near the border with Turkey.
"There is no truth to reports … about the Syrian air force targeting a camp for the displaced in the Idlib countryside," the military said in a statement released on Friday.
It also accused foreign-sponsored Takfiri terrorists of targeting civilians.
The so-called Syrian Observatory for Human Rights said at least 28 civilians, among them women and children, lost their lives and 50 others sustained injuries, when airstrikes hit the Kamuna camp housing people uprooted by the conflict in Syria near the town of Sarmada, which lies about 30 kilometers (20 miles) west of the city of Aleppo.
Sarmada, which is located in Syria's northwestern province of Idlib, is controlled by members of the al-Qaeda-affiliated al-Nursa Front terrorist group.
"There were two aerial strikes that hit this makeshift camp for refugees, who have taken refuge from fighting in southern Aleppo and Palmyra," said Abu Ibrahim al-Sarmadi, a member of the foreign-sponsored opposition from the nearby town of Atmeh.
Video footage published on social media networks showed rescue workers trying to extinguish burning fire among charred tent frames, which had been set up in a muddy field.
Nidal Abdul Qader, an opposition member living near the camp, said about 50 tents and a school had burned down.
UN High Commissioner for Human Rights Zeid Ra'ad al-Hussein claimed in a statement that initial reports suggested a Syrian government plane was responsible."Initial reports suggest the attacks were carried out by Syrian Government aircraft, but this remains to be verified," he said.
United Nations Under-Secretary-General for Humanitarian Affairs and Emergency Relief Coordinator Stephen Rothwell O'Brien said he was horrified by the news and called for an investigation.
"If this obscene attack is found to be a deliberate targeting of a civilian structure, it could amount to a war crime," the UN official said.
"I call for an immediate, impartial and independent investigation into this deadly incident."
According to a February report by the Syrian Center for Policy Research, the conflict in Syria has claimed the lives of over 470,000 people since March 2011.