Syria
Syrian Army Forwards More Troops to Idlib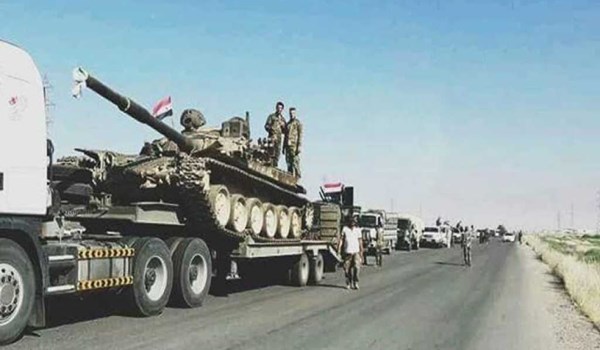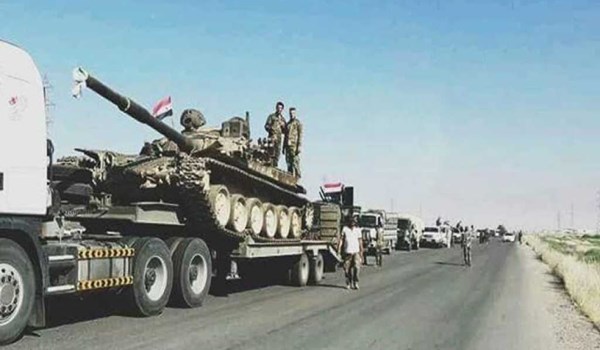 The Syrian Army dispatched more soldiers and military equipment to Northwestern Syria on Tuesday for an imminent large-scale operation against terrorists in Idlib, Hama, Lattakia and Aleppo provinces.
The army sent twenty tanks and BMP vehicles, floating bridges and tens of personnel carriers to the battlefields in Northwestern Syria.
In the meantime, the army's artillery and missile units pounded the positions and movements of Tahrir al-Sham Hay'at (the Levant Liberation Board or the Al-Nusra Front) in the village of al-Jabeiryeh and in the town of al-Latamina in Northern Hama, inflicting major losses on the terrorists.
Other artillery units opened heavy fire at the movements of al-Turkistani Islamic Party in the small towns of al-Ziyara, al-Mashit, al-Zi'yadiyeh and al-Qarqour in Western al-Ghaab Plain and in the town of Badama in Jisr al-Shughour region in Western Idlib, killing and wounding a number of terrorists.
Local sources reported on Monday that Tahrir al-Sham Hay'at terrorists arrested pro-peace activists in different regions in Idlib province and formed firing squads in a move to prevent any possible endorsement of the peace agreement with the Syrian Army.
The sources said that Tahrir al-Sham stationed several firing squads in main squares across the town of Harem in Western Idlib to arrest and execute those who try to promote peace with the army.
Tahrir al-Sham and Syria's Tahrir Front have recently captured hundreds of pro-peace activists in Hama and Idlib provinces.