Middle East
Syria
Syrian Army Frees 3 New Towns in Western Aleppo, 660 Terrorists Killed in 20 Days
The Syrian army forces liberated 3 new towns in Northwestern Aleppo on Monday.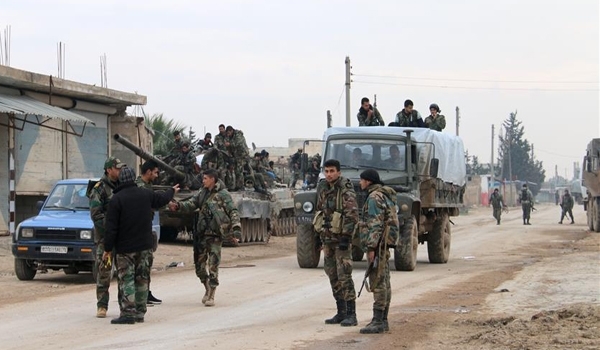 The three towns of Anjareh, Hoor and al-Qassemiyeh on Road 62 were captured by the Syrian army, giving it fire control over the town of Qaitan, the Arabic-language service of Sputnik news agency reported on Monday.
It added that the Syrian army troops have now advanced to areas 4km away from the town of al-Sheikh Aqil.
Meantime, al-Elam al-Harbi news website reported that 660 terrorists have been killed since the start of anti-terrorism operations in Idlib and Aleppo late last month.
Relevant reports said on Sunday that the Syrian army forces regained full control of Aleppo city and several other towns and villages in the Western and Southern parts of Aleppo province.
The Syrian troops recaptured Salat al-Layarmoun region on Sunday after 8 years, establishing full control over the entire Aleppo city, specially the Western outskirts.
The army forces also managed to cleanse Jamiat al-Zahra and Horitan in the Western parts of Aleppo province from the terrorist groups.
The London-based Syrian Observatory for Human Rights affiliated to the dissidents also reported that the Syrian army liberated 32 points in Aleppo countryside only on Sunday, noting that it has regained control of over 113 regions in the Western and Southern parts of the province in the past few days, including Northern al-Rashideen, Sa'adiyeh, Madresat al-Shortah, Shawihenah, Tal Shawihenah and Kafr Da'el.