Middle East
Syria
Syrian Army Frees More Regions in Idlib Amid Push to Vital City of Saraqib
The Syrian Army retook control of more areas in Idlib province as part of a military operation to liberate the last major militant-held territory in the war-torn country.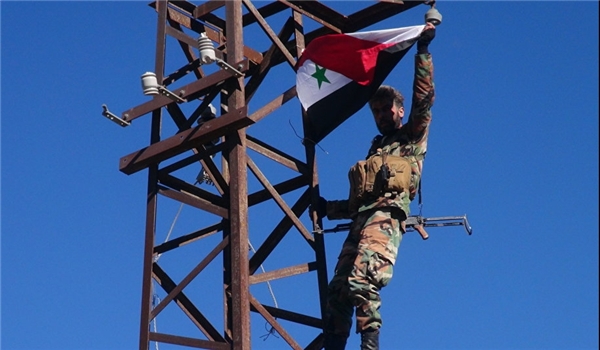 Syria's official SANA news agency reported on Saturday that government forces have engaged in fierce clashes with terrorists in Louf and Qamhana villages near the strategic city of Saraqib.
The operations ended up with liberating the two villages on Ma'arat al-Nauman-Khan al-Sobul axis to the East of Saraqib, inflicting heavy losses in personnel and equipment on terrorists.
Advancing North from Ma'arat al-Nauman, the Syrian Army had captured Tal Debes and the neighboring town after a brief battle with militants on Friday night. The Syrian Army has also captured another town in the Idlib countryside after advancing further West of Ma'arat al-Nauman.
Government units also captured the town of Hish as well as the villages of Ameria, Kafr Mazdah, and Tabish after a short battle with militants on Friday night. The town is important because of its location near the Turkish military's observation post in the Ma'arat al-Nauman countryside. Now, the army forces will likely attempt to push towards the strategic city of Ariha, which was captured by terrorists during their 2015 offensive in Idlib province.
The crossroad city of Saraqib is a high priority for the Damascus government, as two major highways go through Saraqib, including the primary route to Aleppo from Idlib. The Syrian Army is now less than 3 kilometers away from the key city. Syrian army troops are looking to capture the dozens of villages and towns left under militant control East of Ma'arat al-Nauman before they make an attempt to capture Saraqib.
Idlib and the area North of Aleppo province form part of the only large territory in the hands of the terrorists after the Syrian military managed to undo militant gains across the country and bring back almost all the Syrian soil under Damascus government control.
As the Syrian Army began their large-scale offensive in Southern and Western Aleppo, the Turkish-backed militants from the so-called "Syrian National Army" (SNA) have sent reinforcements to the Western countryside of Aleppo province to block the Syrian Army's advances. It came just a day after Harakat Nouriddeen Al-Zinki sent reinforcements to the same area to help militants that previously expelled their forces from several parts of Aleppo.
According to the battlefield reports, the Syrian military is quickly approaching the town of Khan Al-Assal after seizing several areas from militants in Southwestern Aleppo. Government troops have also stormed several sites around the Rashiddeen 5 sector and recently captured town of Khan Touman.
The fresh military operation by Damascus came after those positioned in the de-escalation zone failed to honor a ceasefire brokered by Russia and Turkey and continued to target civilian neighborhoods. The Syrian army forces resumed their military operation against militants in Idlib, over multiple ceasefire violations.