Syria
Syrian Army Frees Vast Region in Sweida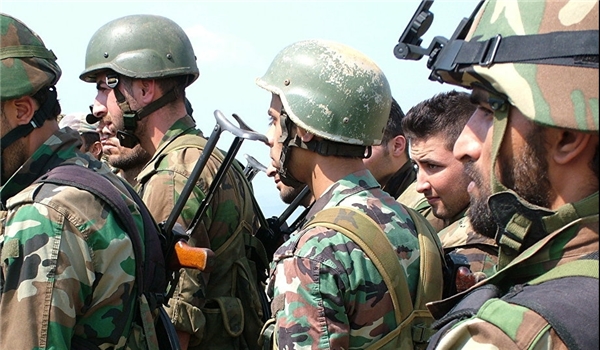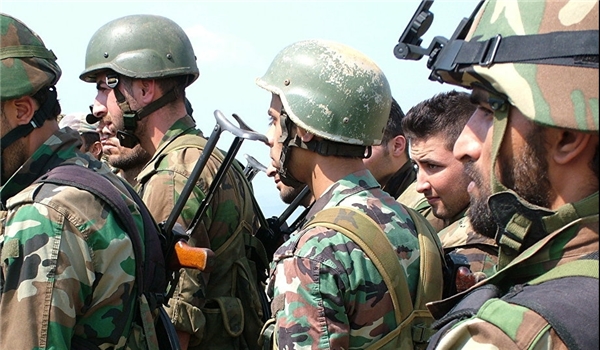 The Syrian Army troops stormed ISIL's defense lines in Southeastern Sweida and imposed full control over a region 100sq/km in area.
The army units engaged in tough battle with ISIL and pushed them back from Tal (hill) Asadi, Tal Jarin, Tal al-Rayahin and Ba'ar al-Sabouni region and later continued their advance towards Ba'ar al-Sawt.
A military source said that the army has captured 100sq/km of land after its recent advances in Southern Sweida.
Relevant reports said in July that drove militants out of 300sq/km in Sweida province, liberating 15 towns, villages and hills.
The Syrian state news agency reported that the army troops launched their anti-terrorism operations from Northeastern Sweida and managed to impose full control over the towns an villages of Deir al-Nasrani, Rajm al-Baqar, Salman hills, al-Fadeen hills, Tal (hill) Asqar, al-Shahib, Northern and Southern hills of al-Shahib, al-Mofrateh, al-Mofrateh hill, Shanwan, al-Saqiyeh, al-Qasr, Tal Banat Ba'eir, Khebrat al-Sa'ad and Tal al-Sa'ad.
A number of terrorists were killed or wounded and their military vehicles and one of their operation rooms equipped with modern communication devices were destroyed in the attacks.
The Arabic-language Elam al-Harbi reported said that the army forces imposed control over 300sq/km land and are just 18km away from their comrades who have advanced against militants from Eastern Damascus