Syria
Syrian Army Gains Control over All Terrorist-Controlled Areas in Northern Hama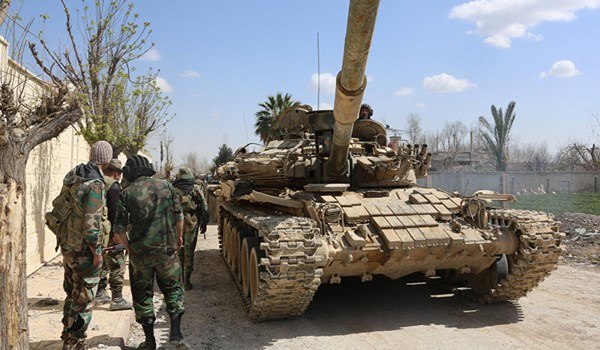 The Syrian Army continued its military operations in areas controlled by the terrorists in Northern Hama, and captured the entire regions which were under the control of the Ankara-backed terrorists.
After taking control of the strategic city of Khan Sheikhoun in Southern Idlib, the Syrian Army continued its fierce clashes with the besieged terrorists in Northern Hama and took control of the town of al-Sayyad and Tal al-Sayyad to North of Kafar Zita, Wadi al-Anz and Tal al-Hawir to the East of Mourek and Matmarha region.
The Arabic-language website of the Russian Sputnik news agency also reported that the Syrian Army troops continued their advances in Northern Hama and secured control over al-Latamineh, Latmi, Tal Fas, al-Bouyezeh, Lahaya and Ma'arkabeh.
The Syrian Observatory for Human Right (SOHR) also pointed to the Syrian Army's control over Mourek, and said that the army troops have taken helm of the entire regions.
On Monday, the Syrian army managed to enter Khan Sheikhoun after five years.
Also reports said on Wednesday that the local population in Ma'aret al-Numan in Southern Idlib were preparing themselves for the imminent entry of the Syrian Army troops into the city, adding that the people were eagerly waiting for the army's military takeover.
"The next target of the Syrian Arm's military operations is Ma'aret al-Numan after imposing full control over Khan Sheikhoun," Syrian lawmaker for Idlib Province Safvan Qorbi said.
He noted that the residents of Idlib and its countryside are expecting the Syrian Army to arrive in areas occupied by the terrorists, and said that large groups of residents of Ma'aret al-Numan and the city of Saraqib in Southern Idlib have visited the joint Syrian-Russian Command Headquarters for the implementation of peace plan.
Qorbi noted the massive presence of the terrorist groups in Ma'aret al-Numan and the Turkish Army's occupying role in the region, and said that the Syrian Army is prepared to enter Ma'aret al-Numan.
He also pointed to the heavy defeat of the terrorist groups in Khan Sheikhoun city despite massive military backup by the Turkish Army and their retreat from the region, and said that negotiations are currently underway for exit of the Turkish Army troops from areas under its control in Hama.