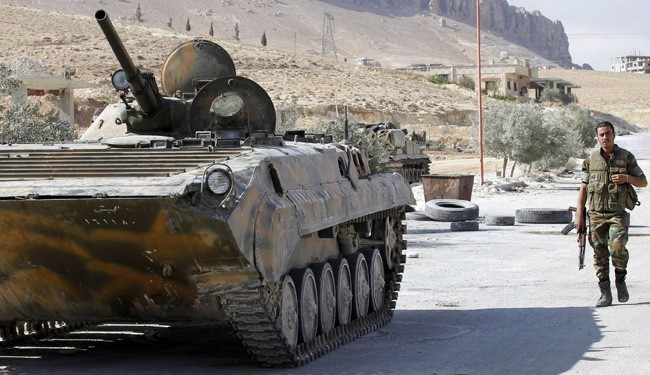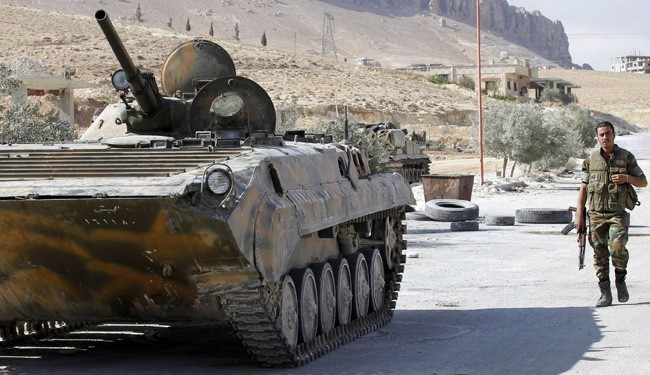 Syrian army has been able to get closer to the strategic town of al-Qalamoun by regaining Hawarin and Mahin, in the southeastern Homs countryside.
According to reports, Syrian army is expected to soon launch an allout operation on al-Qalamoun and surrounding mountains which has been a major hideout for Syria militants.
Syrian troops made major improvements in parts of the Qalamoun Mountains, located at north of al-Salmiya in Hama.
The latest advances come a day after the army cleared militant hideouts in the ragged, mountainous terrain.
Militant forces have suffered heavy losses in the fighting. They have also called for a mass mobilization to stop government advances on the northwestern province of Aleppo.
According to the UN, more than 100,000 people have been killed and millions displaced in the deadly unrest that has gripped Syria since March 2011.
The Western powers and their regional allies — especially Qatar, Saudi Arabia, and Turkey — are supporting the militants operating inside Syria.
In May, Syrian President Bashar al-Assad said militants from 29 different countries are fighting against his government forces in different parts of the country.