Syria
Syrian Army, Hezbollah Free Almost 45sq/km of Heights at Border with Lebanon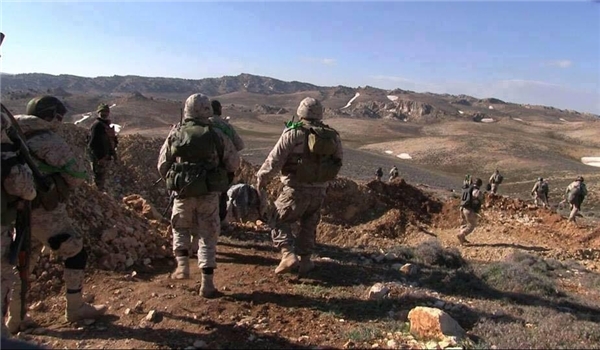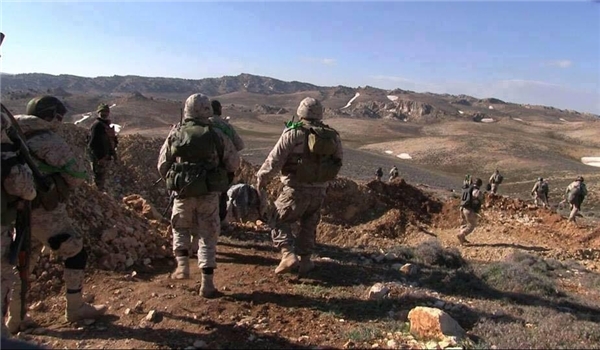 The Syrian Army troops and the Lebanese Hezbollah fighters pushed ISIL back from nearly 45sq/km of area in the heights along the two countries' border on the fourth day of their joint operation against terrorists.
The pro-government forces, backed up by artillery and missile units and country's Air Force, continued to advance against ISIL in the Western Qalamoun region from the Northern, Eastern and Southern flanks and managed to impose control over a 44sq/km area.
The army and Hezbollah forces operating in the Eastern flank advanced from San Fikha-Mosul heights Westward and joined their comrades advancing from Ajloun al-Kabir heights in al-Rasi towards South, a field source said, adding that the government forces later took control over the San Fikha passageway that links al-Brij heights in Syria to al-Qa'a heights in Lebanon.
The army and resistance forces further won control over the regions of Tal Satouf, Wadi al-Soqour, Sho'abh Ali Amin, Qala al-Hamam, Wadi al-Zoweitineh, Morafa Harf al-Jub, Khirbet Beir al-Aqa, Sho'aba Beir Abu Ali, Sho'aba al-Konz, Sho'aba al-Khabiyeh, Sho'ab al-Hadiqa, Mortafa Shamis al-Hamayel, Sho'aba al-Naza'yee, Sho'aba Fanish, Jub Khoulah, Zalil Khomam, Sho'aba al-Haloush, Wadi Khomam, Sho'aba al-Sobouh, Sho'ab al-Bakhash, Sho'aba Masroub al-Qabli, Hart Sho'aba Beit al-Sheikh, Sho'ab al-Masroub al-Shamali, Sho'aba Beir al-Shayah and Wadi al-Najas, laying siege on terrorists in the region.
The Syrian soldiers and Hezbollah fighters, meantime, imposed control over 75 percent of Mira passageway that links al-Qareh heights in Syrian to Arsal heights in Lebanon.
Relevant reports said on Tuesday that the army and Hezbollah stormed ISIL's defense lines East of Western Qalamoun heights and captured Sho'aba Sadr Beit Badran heights West of Tal (hill) al-Mosul, Wadi Sho'aba Hafroush, Sho'aba al-Batikh and al-Mosatebah.
The army and Hezbollah further took control of Wadi Hourateh height as well as the strategic Ajloun al-Kabir al-Shamali Height that overlooks San Fikha passageway and connects al-Brij reign to al-Qa'a heights.
The newly captured Ajloun al-Kabir al-Shamali is also linked to Mira border crossing.
In the meantime, the army and resistance fighters pushed ISIL back from Arz Zahar Ali, Khirbet Mashqata regions and San Wadi al-Karoum overlooking Sheikh Ali passageway that links the Syrian territories to Arsal heights in Lebanon.
According to field reports, the army men and Hezbollah fighter discovered a depot of ISIL that contained a large volume of arms, ammunition and wireless telecommunication devices.