Syria
Syrian Army, Hezbollah Win Back Strategic Hilltop in Flita Mountain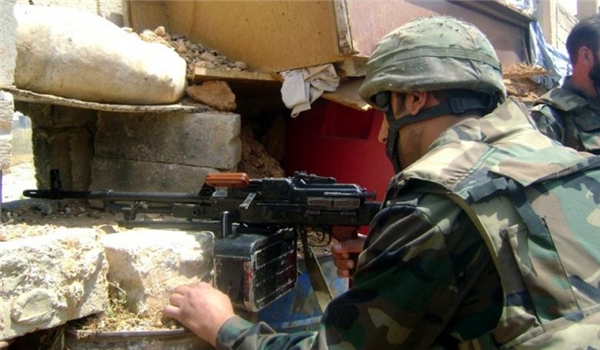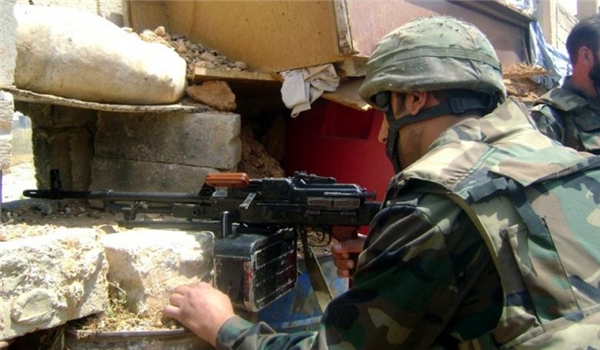 The Syrian army and the Hezbollah resistance forces seized back a strategic hill in Jord Flita (Flita Mountain) near Lebanese Arsal region on Saturday.
The army units and the resistance forces regained control of Sadr al-Bustan hill in heavy clashes with the terrorists.
Tens of terrorists were killed and dozens more injured in the battle over the hilltop.
Sadr al-Bustan is located in the Northern parts of al-Salaja mountains which overlooks the al-Jarajir barrens controlled by the ISIL.
On Friday, the Syrian army's General Command in a statement announced that the Syrian troops will continue their operations until taking full control over Qalamoun hills along Syria-Lebanon border.
Hezbollah, backed by the Syrian army, are tightening the noose on militants in the border region of Qalamoun, pressing to recapture Jord Flita, the last major position still under the control of the al-Nusra Front terrorist group.
On May 23, the Syrian army and the Hezbollah fighters made significant gains in Qalamoun in Damascus countryside and took control over strategic hilltops of Jord Flita Mountain.
The army units and Hezbollah regained control of Jabal Salajah South of Flita Mountain, killing a large number of Al-Nusra Front terrorists in fierce clashes.
Jabal Salajah is the second highest hilltop in Jord Flita in Al-Qalamoun area after Jabal al-Moussa.
The Hezbollah fighters were only less than four kilometers away from Arsal Mountains in Eastern Lebanon.
The Syrian army and Hezbollah fighters had gained control over 70 percent of Jord Flita.
The Syrian army and Hezbollah fighters are heavily fighting against the Al-Nusra Front terrorists in the Northern hilltops of Jord Flita.
Last Wednesday, the army and Hezbollah forces started their last round of military operations to purge Al-Qalamoun region in Damascus countryside of Takfiri terrorists.
The Syrian army units have now regained control of Al-Emareh 1, Al-Emareh 2, Al-Emareh 3 and Saleh 3 as well as Northern parts of Flita.