Syria
Syrian Army Inches Closer to Jeish Al-Islam's Main Terror Stronghold in Damascus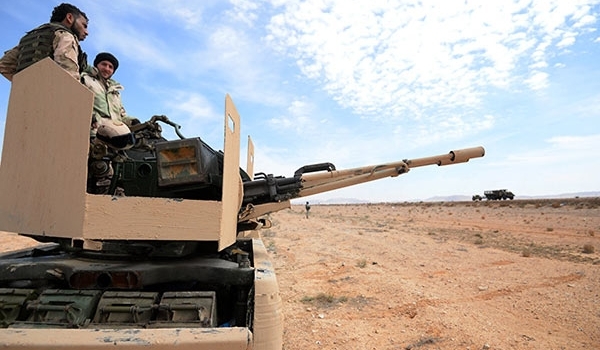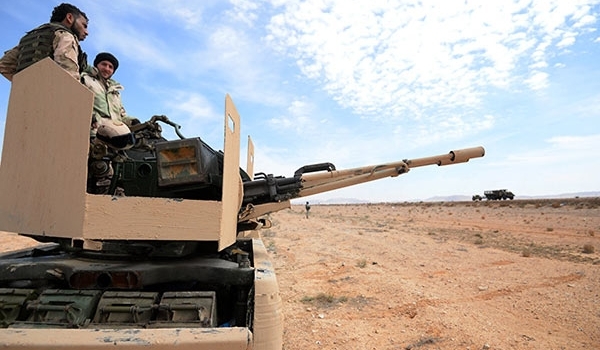 The Syrian Army troops continued to storm Jeish al-Islam terrorists' positions in Eastern Ghouta of Damascus and came close to Douma city.
The army soldiers struck more victories against terrorists of Jeish al-Islam near the strategic town of Meida'ani and came closer to the city of Douma, the main stronghold of Jeish al-Islam in region.
Backed up by the Syrian fighter jets, the army men stormed terrorists' defense lines in Meida'ani and managed to advance against them.
Terrorist-affiliated websites also disclosed that concurrent with army advances and its capture of over seven farms near Meida'ani, the rebels of Jeish al-Islam retreated from several bases in the town.
"The army attack on terrorists in Meida'ani inflicted a heavy blow to Jeish al-Islam, because this town is one of the most important strongholds of the terrorists and is seen as their center of gravity in the region," a Syrian military source said.
The source further added that the army soldiers are on the threshold of cutting off one of the main lines of terrorists' movements from the town of al-Dhamir to Douma and will soon tighten siege on the terrorists.
"After the army control over Meida'ani, the government forces will arrive at al-Nashabiyeh region which is called by the terrorists as the first defense line of Douma,' the source underlined.
In relevant developments on Tuesday, the army troops launched a new round of offensive Northeast of the capital to drive terrorists out of the highway connecting Damascus to Homs city.
The army soldiers started the assault with an attack on Jeish al-Islam's defense lines near the strategic hill of Abu Zeid that overlooks the Damascus—Aleppo highway and its nearby hills.
The army units further used Abu Zeid hill and opened a new front at the entrance to Damascus near Dhahiyat al-Assad town that overlooks the town of Harasta and the city of Douma.
The army soldiers also engaged in fierce clashes with terrorists of Jeish al-Islam near the town of al-Meida'ani towards Hawsh al-Zawahereh in Eastern Ghouta, while its tanks and artillery units targeted terrorists' positions in the region with heavy fire.
After hours of clashes, the army men entered the town of al-Meida'ani and took control of Jeish al-Islam's tunnels and positions.
In the meantime, the army aircraft and artillery units pounded terrorists' centers in Douma city.