Syria
Syrian army inflicts losses on insurgents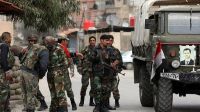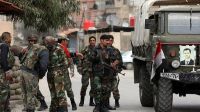 Foreign-sponsored insurgents in Syria continue to suffer heavy losses as the Syrian army troops have killed many terrorists during mop-up operations around the cities of Homs and Dara'a.
According to Press TV, on Thursday, a number of insurgents were killed during intense clashes with Syrian soldiers in the city of Talbiseh, located about 10 kilometers north of Homs.
A unit of government forces also shot dead scores of insurgents in the town of al-Dar al-Kabir.
Moreover, Syrian troops clashed with insurgents in the villages of al-Ghanto and al-Bowida al-Sharqiyah and the city of al-Rastan — located 25 kilometers north of Homs, killing and injuring a number of them.
Clashes were reported in the districts of Wadi al-Sayeh, Bab Hood, Juret al-Shayah and al-Qarabis in Homs city, where many insurgents were killed by the Syrian soldiers.
Syrian forces stormed terrorist hideouts in the village of Houla, located about 32 kilometers northwest of Homs, on Thursday. Large amounts of weapons and munitions were also destroyed after the fierce clashes.