Syrian army intercepts, downs militant drone near Homs refinery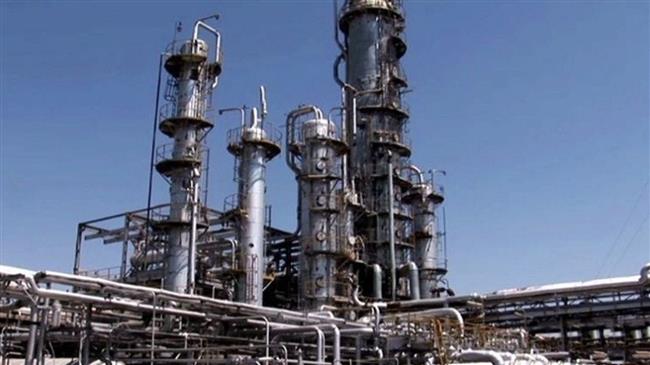 Syrian government forces have intercepted and shot down an unmanned aerial vehicle operated by foreign-sponsored Takfiri militants as it was flying in the skies close to a major refinery in the country's central province of Homs.
Syria's official news agency SANA reported that a Syrian army unit shot down the explosive-laden drone on Monday as it was about to target Homs refinery, one of Syria's two main refineries covering most domestic demand for diesel, heating fuel, gasoline and other products.
Syrian army hacks, lands militant combat drones in HomsAn army unit used a spoofing technique to hack the controls of five combat drones.
The development came only a day after Syrian government forces used a spoofing technique to hack the controls of five combat drones, commandeer them and bring down the aircraft. The drones were to target the same refinery.
On February 4, Syrian Minister of Petroleum and Mineral Resources Ali Ghanem said Takfiri militants had launched drone strikes against al-Rayyan gas field, the Ebla gas plant, the South Central region gas factory and Homs refinery.
Militant drone strikes refinery, gas facilities in central SyriaA militant drone strike has targeted a gas refinery and a number of energy facilities in Syria's central province of Homs.
The Ebla gas plant provides local power plants with approximately 2.5 million cubic meters of gas per day.
Syria army finds mass grave near Damascus
Meanwhile, the Syrian army has discovered a mass grave containing around 70 bodies in a former militant bastion near the capital Damascus.
The chief of the Military Police Branch in Damascus, Brigadier General Mohammad Mansour, told SANA that the grave was found in al-Eib Farms, in Eastern Ghouta region outside Damascus.
He added that the victims were "civilians and security personnel who were executed by terrorist groups" between the beginning of 2012 and 2014.
Dr. Ayman Khallou, a forensic doctor at Tishreen Military Hospital in Damascus, said most of the victims were fatally shot in the head as they were cuffed with their hands behind their backs.
Khallou noted that DNA tests are going to be conducted on the corpses in order to identify them.
On March 31, 2018, the Syrian army announced "full victory" against terrorist groups in Eastern Ghouta.
Syria declares full liberation of Eastern GhoutaThe Syrian army announces full liberation of Eastern Ghouta region in Damascus suburb.
"Following a series of well-planned battles and combat operations marked with high levels of cooperation and coordination between different types of forces, the armed forces aided by allied forces wrapped up military operations in Damascus countryside's Eastern Ghouta, with full control established all over its cities and towns," a statement by the General Command of the Army and Armed Forces said at the time.
The victory "dealt a crushing blow to the Wahhabi project against the Syrian land and people," the statement added.
Syrian opens Aleppo airport to civilian flights
In another development on Monday, Syrian media reported that the airport in the country's northern city of Aleppo will reopen to civilian flights this week for the first time since the war forced its closure in 2012.
The SANA new agency quoted Transport Minister Ali Hammoud as saying that "Aleppo International Airport has resumed operations."
The news agency added that the first flight from Damascus to Aleppo is scheduled to take off on Wednesday, followed by more flights to Cairo and Damascus in coming days.
The development came after the Syrian army made unprecedented advances in the Aleppo province, which borders Turkey, bringing back most of the province under sovereign control.
Syria recaptures most of Aleppo ahead of Russo-Turkish talksBacked by Russian air power, the Syrian army makes unprecedented advances in the northwestern Aleppo Province, which borders Turkey, on the eve of planned talked between Ankara and Moscow over the situation.