Syria
Syrian Army kills 10 terrorists in NW Syria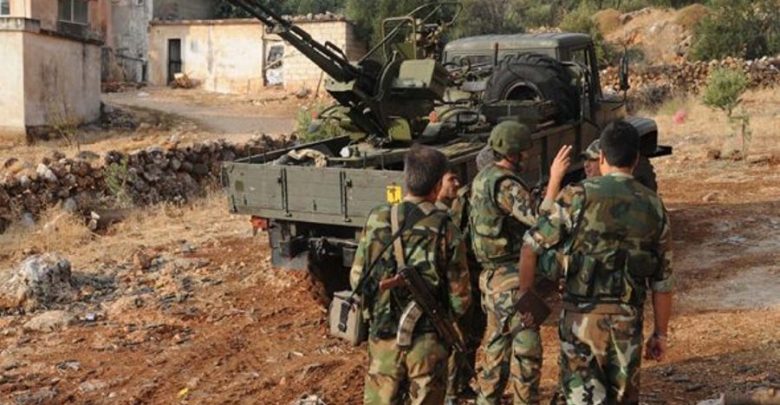 The Syrian Arab Army on Sunday continued its military operations against terrorist groups in southern Idleb and northern Hama in response to their repeated violations of de-escalation zone agreement, inflicting losses upon them in personnel and equipment.
The army units destroyed dens of Jabhat al-Nusra terrorists, killed ten of them in the vicinity of Gergnaz in southern Idleb and destroyed weapons and ammunition were in their possession, Syrian Arab News Agency (SANA) reported.
In northern Hama, the reporter added, the army units carried out a precise operation on the direction of al-Nusra terrorists' movements in al-Karkat village, eliminating a number of terrorist groups and destroying their weapons and equipment.
Earlier, explosion of a land mine in Deir ez-Zor, eastern Syria, had claimed the lives of 4 civilians and injured 36 others.
Meanwhile earlier, the Russian Foreign Ministry in a statement called on the international community to join efforts in the urgent task of humanitarian demining operations in Syria.
'We call upon the international community to actively join the Russian-Syrian efforts in this direction and provide the appropriate financial and technical support,' the statement reads.
Such 'urgent and expeditious' efforts on a global scale would ultimately contribute to creating conditions for the return of millions of Syrians to their homes and the reconstruction of the country, the statement added.
Meanwhile earlier, UN reported that eight years since the war began, 12 million Syrians are either refugees or displaced inside Syria; adding up to around half the pre-war population.
"Around 70 percent of Syrian refugees live a razor-edge existence below the poverty line," said UN High Commissioner for Refugees, Filippo Grandi in a joint statement, who recently visited Syria and Lebanon, where refugees make up a quarter of the population.