Syria
Syrian Army kills 35 terrorists of al-Nusra Front in Edlib countryside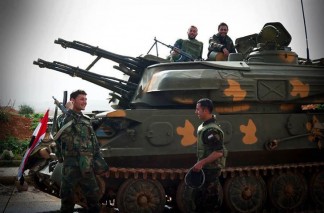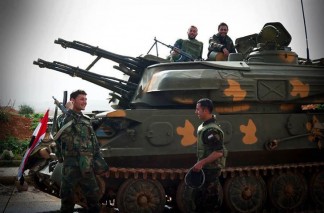 Syrian Army carries out series of the operations against the armed militias in Edlib countryside and kills dozens of al-Qaeda organization of foreign nationalities.
Our reporter assures that the Jordanian terrorist Hasan al-Hwuni and 23 others from al-Nusra Front got killed in al-Nerab area.
The correspondent points out that unit of Syrian Army has targeted a gather of al-Nusra Front inside al-Nerab school; resulted in the death of 23 armed rebels and the injury of others, including Dagher al-Toshi from Lebanon, Muhammad Ismail al-Tawil from Egypt and others.
Meanwhile, units of Syrian army target the strongholds and the gathers of the insurgents in Binnish city of Edlib countryside; resulted in the destruction of 3 armoured vehicles and a stolen military Zell and the death of at least 12 insurgents and the injury of others.
A Jordanian rebel commander got killed in Latakia countryside
Operations of Syrian army continue against members of al-Qaeda in Latakia countryside, where Syrian Army has destroyed many locations for al-Qaeda in Latakia countryside.
The Jordanian leader in al-Nusra Front called by Abu al-Abed beside the Egyptian Othman al-Sayed Ahmad have been killed in two operations carried out by Syrian army in al-Rayhanie and al-Frulloq villages destroying the missile launcher used by insurgents.
The Sports Federation member got martyred in Deir al-Zour city and IED in Hasaka.
Our reporter in Deir Ezzor declares that armed men
Units of Syrian Army target gathers for the armed men in al-Sena'a, al-Jbela and al-Shiekh Yaseen neighborhoods killing dozens of them.
And in Hasaka, our reporter says that two citizens got injuries due to the explosion of an explosive charge in the city
In Raqqa, clashes continue between the armed militants and mortars are shelled; resulted in the martyrdom of citizens.