Syria
Syrian army kills scores of terrorist snipers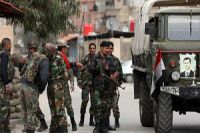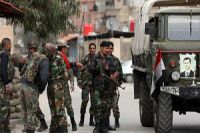 The Syrian troops have killed a number of snipers affiliated to armed terrorist outfits in the outskirts of the Syrian Capital, Cairo, and have seized these operatives' weapons.
According to IRIB World Service, citing Al-Alam TV Network, a number of terrorists have also been killed and wounded in the Syrian army's operations in the environs of Damascus, whom include the ringleaders of one of these armed terrorist groups.
Also, according to incoming reports, the armed terrorists have failed to infiltrate into Syrian soil through this country's border with Jordan, and their arms have been confiscated by the Syrian army.