Syria
Syrian Army Kills Scores of Terrorists Across Country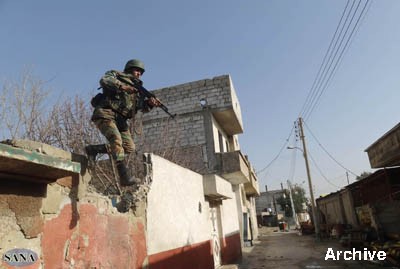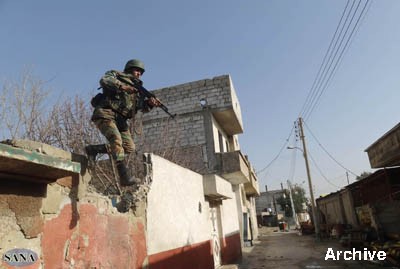 The Syrian army carried out operations against terrorists' dens and gatherings in several areas on Friday during which they foiled infiltration attempts and destroyed several terrorists' dens, killing and injuring scores of them.Syria Army
According to SANA, the Syrian army units killed all members of an armed terrorist group who were attempting to infiltrate from al-Nab'a village towards a military checkpoint and destroyed a car along with the weapons and ammunition inside it in the area surrounding Atman town in Daraa.
The Syrian army units targeted terrorists' dens in the villages and towns of Eyb, al-Jsri and Rajm al-Ghazlan, killing and injuring a number of terrorists.
The Syrian military clashed with terrorists in the area of al-Rabe'a in Lattakia northern countryside, killing and injuring scores of them and destroying two vehicles equipped with heavy machineguns.
Units of the Syrian armed forces foiled terrorists' attempt to infiltrate from Lebanon into al-Qusseir countryside, inflicting heavy losses upon them.
The Syrian army units clashed with terrorists who were attempting to sneak towards al-Carlton Hotel in Aleppo city, killing and injuring scores of them.
Units of the armed forces targeted a terrorists' convoy of cars bound from Tranjeh town to Quneitra hills in the countryside.