Syria
Syrian army kills several militants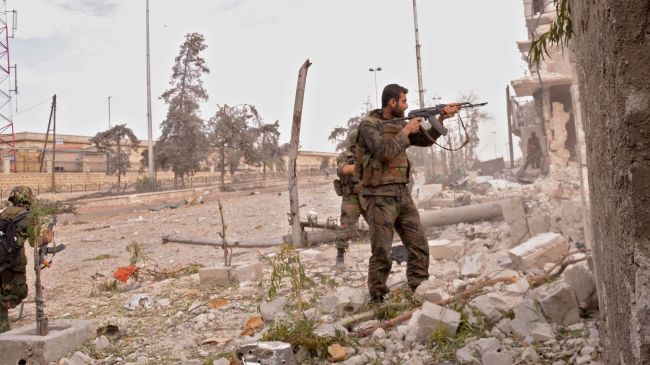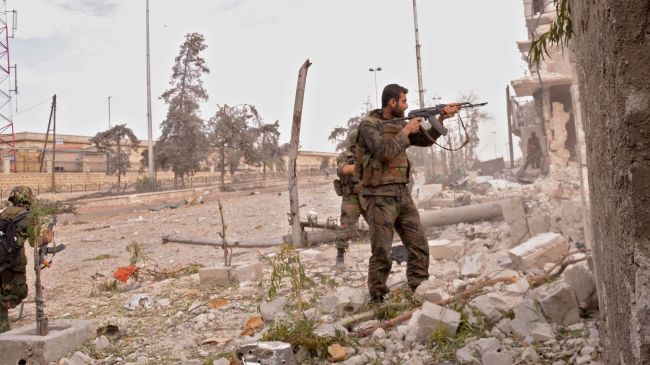 Syrian army has killed several foreign-backed militants and wounded dozens more in separate military operations across the country.
The operations were carried out in the provinces of Homs, Aleppo, Idlib and Hama on Friday, SANA news agency reported.
In western Homs Province, the government forces "targeted armed terrorist groups" in neighborhoods of al-Qser, Kifrlaha, al-Houla and al-Khalidiya where "a number of terrorists were killed and wounded," the report said.
Units of the army also carried out an operation against the militants in Ming, Tnaiba and al-Alqamia areas in northern province of Aleppo, inflicting heavy losses on them.
In Idlib, the army forces clashed with terrorists who tried to attack an airport in the northwestern province.
"Large numbers of terrorists were killed and their equipment and vehicles were destroyed" in the operation, SANA said.
Meanwhile, government troops attacked the militant hideouts in towns of al-Tlaisia and al-Zeghba in central Hama Province.
"The armed forces destroyed vehicles used by terrorists in attacking civilians," the report said.
Syria has been gripped by a deadly unrest since March 2011, and many people, including large numbers of government security forces and army personnel, have been killed in the violence.
Damascus says the chaos is being orchestrated from outside the country, and there are reports that a very large number of the militants are foreign nationals.
The Syrian government says the West and its regional allies including Qatar, Saudi Arabia, and Turkey are supporting the militants.
Several international human rights organizations have accused the militants operating in Syria of committing war crimes.