Syria
Syrian Army Kills Several Terrorist Commanders in Reef Damascus, Homs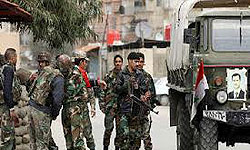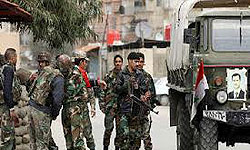 The Syrian army killed a number of foreign terrorist commanders in heavy clashes with al-Qaeda armed rebels in Reef (outskirts of) Homs and Reef Damascus on Wednesday.
In Reef Homs, commander of Separ-e Eslam battalion Abdolkarim Zakaria and commander of al-Hoda battalion, Hesam Sabouh were among the terrorists killed in al-Holeh district today.
Three other notorious terrorists, namely Mohamed al-Mohamed nicknamed Abu Saad, Ons al-Hourani, and Helal al-Afsh were also killed in the Syrian army attack on al-Holeh district of Reef Homs. They were members of Farouq battalion.
The army also killed tens of terrorists in Telbiseh and Rastan towns in Reef Homs today.
In Reef Damascus, the Syrian army killed a terrorist commander, Ghasan Samir Khamis, and his armed men in Saqba district.
The army also killed more than 14 armed rebels in Aqraba district of Reef Damascus today.
Earlier today, the Syrian army killed a notorious terrorist commander of the so-called Free Syrian Army (FSA), Majed Kheibeh, in heavy clashes with armed rebels in Reef (outskirts of) Damascus.
Kheibeh was killed in al-Masraba district of Reef Damascus.
The Syrian army also attacked the terrorists' hideout in Hajar al-Aswad district of Reef Damascus, killing at least 12 armed rebels and injuring many others today.
Syria has been experiencing unrest since March 2011 with organized attacks by well-armed gangs against Syrian police forces and border guards being reported across the country.
Hundreds of people, including members of the security forces, have been killed, when some protest rallies turned into armed clashes.
The government blames outlaws, saboteurs, and armed terrorist groups for the deaths, stressing that the unrest is being orchestrated from abroad.