Syria
Syrian Army Makes Fresh Advance against Terrorists, Downs US Army Drone in Sweida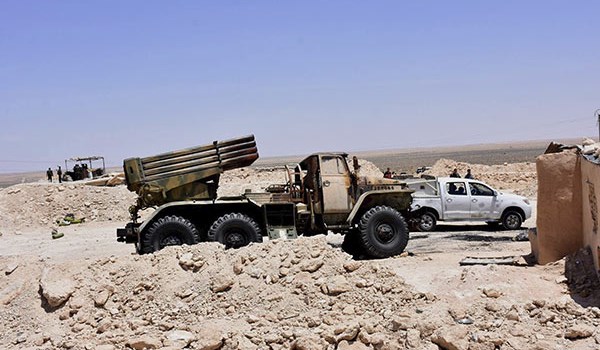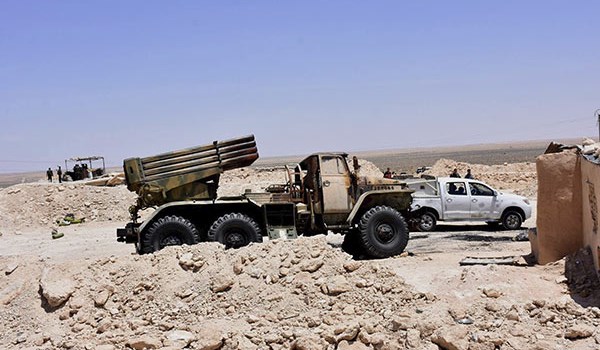 The Syrian Army troops continued their advances against terrorists in Eastern Sweida toward the key al-Tanf border-crossing with Iraq, military sources confirmed on Sunday, adding that a US army drone was also shot down by the army men.
The army soldiers engaged in fierce clashes with terrorists and managed to capture the Mahjoureh (missile) Battalion base Northwest of Zaza region 11km away from Sweida Badiyeh.
A military source reported, meantime, that the army forces after advancing in the missile battalion region managed to drive terrorists out of several hills in areas surrounding the al-Bohouth al-Elmiyeh region that covers an area of 5sq\km.
The source also said that the Syrian soldiers shot down a US drone over Badiyeh region in Zaza.
Also, the army troops, backed up by the country's Air Force, engaged in fierce clashes with terrorist groups in Eastern Sweida on Saturday, repelling their attack and inflicting major losses on them.
The army soldiers engaged in tough battle with the terrorists of Ahmad al-Abdou and Aswad al-Sharqiyeh who attacked the pro-government forces' positons in al-Rahba region North of al-Zalaf dam to take back their lost positions, fending off the terrorists' offensive and killing or wounding a number of them.
The army forces also inflicted major losses on the terrorists' military hardware in the clashes in Sweida's borders with Damascus province.
In the meantime, the army aircraft pounded terrorists' first defense lines in areas surrounding Tal (hill) al-Safa al-Barakani.