Syria
Syrian Army makes huge advance in east Damascus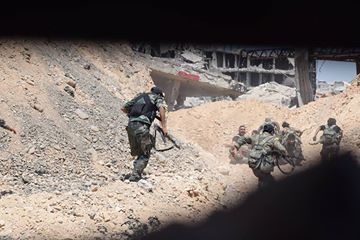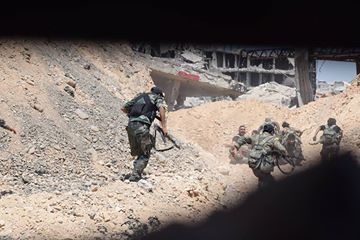 The Syrian Arab Army (SAA) made significant progress in the eastern suburbs of Damascus, Monday, capturing several sites inside Jobar and 'Ayn Tarma.
Leading the way overnight was the 42nd Brigade of the 4th Mechanized Division; they would capture several buildings surrounding the Al-Manasher Roundabout after launching a powerful assault at midnight.
In the morning, the 42nd Brigade surprised the enemy forces by attacking their positions near the Al-Mustafa Mosque.
The Syrian Army would score another major advance in Jobar when their forces captured at least a half dozen buildings around the Al-Mustafa Mosque, forcing the Islamist rebels of Faylaq Al-Rahman to reinforce the area in order to avoid being overrun.
Meanwhile, southeast of Jobar, the Syrian Arab Army's 105th Brigade of the Republican Guard resumed their operations from the Sonbol Station in 'Ayn Tarma, capturing new buildings near the strategic Zamalka Road.
In addition to their progress near the Sonbol Station, the 105th Brigade also advanced in the Shwam Neighborhood of 'Ayn Tarma, as their forces seized new buildings near the meat factory.
The Syrian military is now pressuring the Islamist rebels to surrender their last positions or else they will intensify their operations in east Damascus.