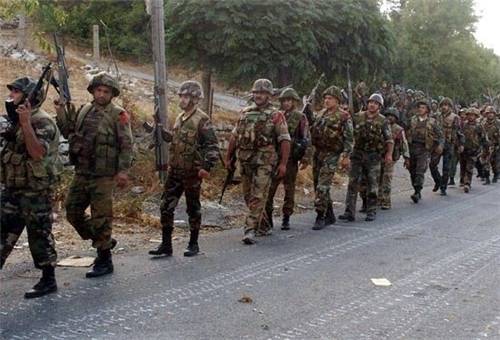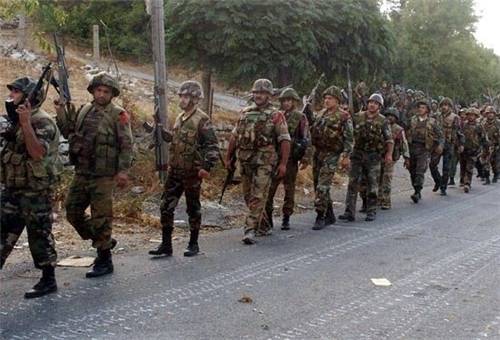 The Syrian army made major advances in several areas in Idlib countryside in the Northwestern parts of the country.
The army units destroyed a number of gathering centers of the militants in Bensh, Kafr Jales, Arz al-Dousseh and Martin along Idlib-Saqlin road on Friday. The army killed tens of terrorists and injured dozens more in the clashes in Idlib countryside.
Also in the past 24 hours, the Syrian army thwarted the militants' attack on a military zone near Al-Qasemieh town in Damascus countryside. More than 30 terrorists have been killed in heavy clashes.
The army units also made major advances towards Al-Nashabieh town Damascus countryside.
Elsewhere, the Syrian army conducted several military operations in Ankhal town and Ankhal-Jassem road in Daraa countryside.
The Syrian air force targeted and destroyed the gathering centers of militants of Ahrar Al-Sham Movement and Free Syrian Army (FSA) in surrounding farms of Ankhal-Jassem road in Daraa countryside.
Meantime, nearly 1,400 foreign-backed insurgent have thus far been killed in Syria ever since the eruption of infighting among rival militant gangs fighting against the Syrian government.
The so-called Observatory for Human Rights said that clashes between the al-Qaeda-linked Islamic State of Iraq and the Levant (ISIL) and other militant groups have claimed 1,395 lives since January 3.
Also, militants from the FSA have defected from their ranks and joined the forces of the Syrian army, new footage coming out of Syria showed.
The FSA defectors say in a video released by the British television channel, ITV news, that they had been deceived into joining the fight against the Syrian government.