Syria
Syrian Army, Militants Engage in Heaviest Clashes in Demilitarized Zone after Sochi Agreement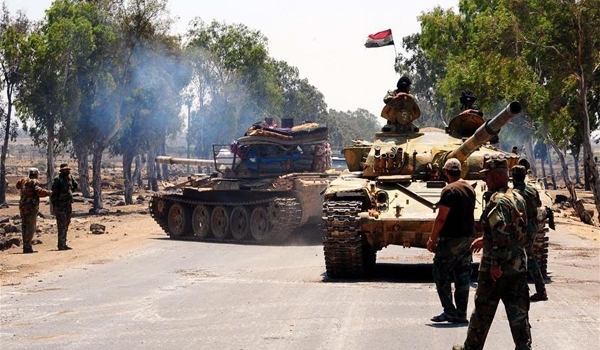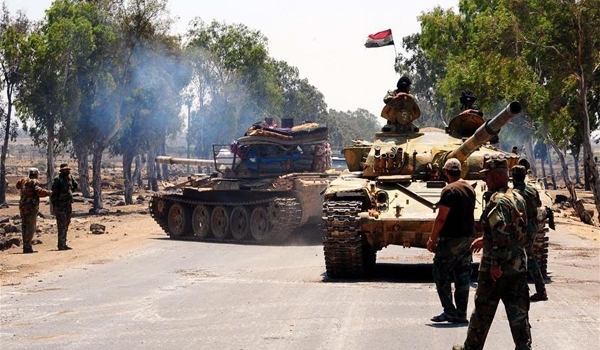 The terrorist groups stationed in the weapons-free zone in Syria have intensified their offensives against the army-controlled regions, media sources reported, adding that the Syrian army has engaged in heavy clashes with them.
The Arabic-language website of Sputnik reported on Wednesday night that Tahrir al-Sham (the Levant Liberation Board or the Al-Nusra Front) launched over 40 missile strikes against the residential areas in Idlib province, including al-Khalediyeh, al-A'azamiyeh, al-Akramiyeh, al-Shahba, Seif al-Doleh, New Aleppo, al-Mothalaq and Shar'e al-Nil, as well as the army positions, killing and wounding several civilians.
It added that the Syrian army's missile and artillery units responded to the attacks by targeting the terrorists' positions in Western Aleppo, noting that heavy clashes are underway between the Syrian army forces and Tahrir al-Sham militants near Jamiyat al-Zahra region in Northwestern Aleppo.
Meantime, field sources reported that the terrorists in Western Aleppo have reinvigorated their positions in the region in the past few days and sent a large number of heavy weapons and military equipment to this front.
Also, the Arabic-language al-Watan newspaper reported that the terrorists continue offensives against the army points in Northern Hama, saying that the Syrian army units responded by attacks against the terrorists' moves in areas near al-Latamineh, the town of Murak, Wadi al-Dorat and Lahaya in Northern Hama and the village of Dawir al-Akrad and regions near al-Sarmaniyeh in Western Hama.
While the terrorists have intensified their attacks against the demilitarized zone in Northern Syria, the Turkish defense minister claimed on Wednesday that a large number of militants deployed in the region have withdrawn and violation of the ceasefire has decreased 90%.
But field reports show that after 10 days of implementation of the Sochi agreement, the terrorists have not left the region and even reinvigorated their positions.
Sputnik had also on Wednesday reported that the terrorist groups, deployed in Northern and Northwestern Syria continued attacking Damascus forces' strongholds in Idlib, Aleppo and Hama provinces in violation of the Sochi agreement.
It reported that terrorists of Horas al-Deen, deployed near Turkish monitoring posts in al-Sarman region in Eastern Idlib, targeted the army's positions in the town of Ajaz.
In the meantime, the army's artillery and missile units pounded terrorists' positons of Horas al-Deen in al-Sarman.
Meanwhile, Syria's al-Watan daily reported that the army has targeted terrorists' positions in Hama, Aleppo and Lattakia provinces after the terrorists opened fire at the government forces.
Terrorists have been launching an increasing number of attacks on the army from the demilitarized zone in recent days.