Syria
Syrian Army on Verge of Full ISIL Cleanup in Hama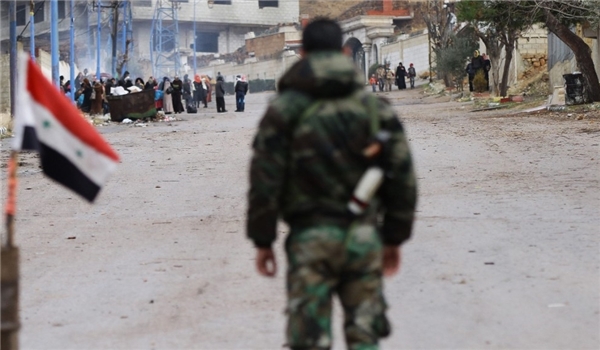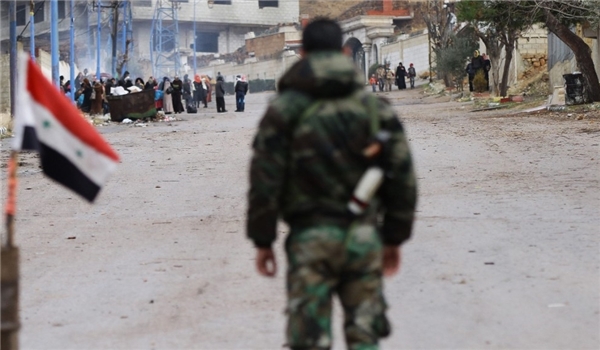 The Syrian army units regained control over several regions in Northeastern Hama, tightening the noose on the terrorists stationed in the ISIL-held triangle in Hama, Aleppo and Idlib.
The Syrian army forces continued clashes against the ISIL terrorists in Northeastern Hama, regaining control of the towns and villages of Northern Hawayes, Ab al-Khazaneh, Hawayes Ibn Hadib, Jabal al-Hawayes, Tal Abouyeh, Rasm al-Hamam, Jabal al-Modawar, Tal Za'abaq, Qasr Ibn Wardan, Rasm al-Anaz, Tarout al-Shamaliyeh and Tarout al-Jonoubiyeh.
Meantime, the army soldiers killed a number of terrorists and destroyed their military equipment.
In a relevant development earlier today, the Syrian army forces retook control of 20 new regions in purging operations against the ISIL in Hama, Aleppo and Idlib provinces.
The army soldiers continued clashes against the ISIL in Northeastern Hama, winning back control of the villages of Janineh, Job al-Sakar, al-Hanin, al-Khatabiyeh, Abu Mahaleh, Job al-Hanteh, al-Qanater, Jadideh, Abu Habaya, Marami Bani Hilal, Um Zahimak, al-Baydhah, Faydhah and Motevasetiyeh.
They also continued advance in the region, taking back control of the villages of Aqlah, Moshirfeh, Maksar al-Sharqi, Abu al-Qanat, Aby Sawaya and Qal'at al-Hawayes.
The engineering units of the army started cleansing operations immediately after freedom of these regions.