Syria
Syrian Army One Step Closer to Laying Complete Siege on Terrorists in Eastern Deir Ezzur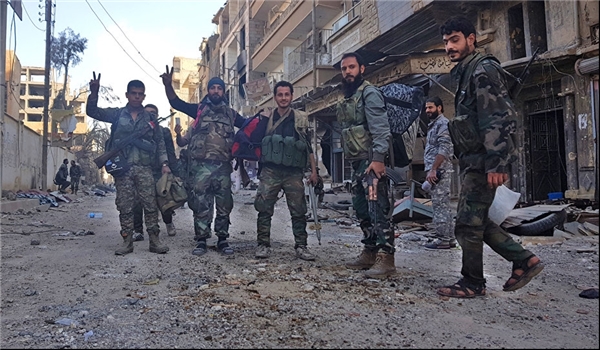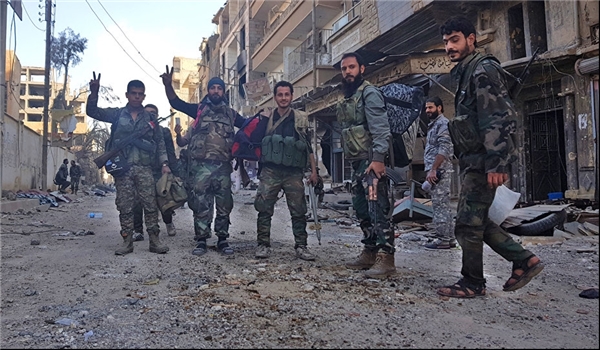 The Syrian Army troops continued their anti-ISIL operations in Southeastern Deir Ezzur and managed to impose control over more strategic regions, a military source said on Sunday, adding that the army has come closer to a full siege of the terrorists in Eastern province.
The source said that the army men advanced significantly against ISIL South of the town of al-Mayadeen and captured Dabilan region after imposing control over Sabikhan.
The army units also seized the strategic Tarfan hill, the source said, adding that the army soldiers are on the verge of laying a full siege on ISIL after the recent advances in Eastern Deir Ezzur.
The Russian Defense Ministry announced on Saturday that the Russian strategic bombers targeted ISIL terrorist group's command posts and movements on the Western bank of the Euphrates River in Deir Ezzur province in Eastern Syria.
Six Tu-22M3 strategic bombers took off from an airfield in Russia towards the vicinity of Abbas town on the Western bank of the Euphrates River and targeted ISIL's command posts, inflicting major damage on the terrorist group's positions, the Russian Ministry said.
The Ministry said that all the Russian warplanes returned safely to their bases after completing the mission, adding that the UAVs which were already flying in the area recorded the results of the bombardment.
"Su-30SM fighter jets based at the Humeimim airbase provided backing for the bombers in Syria's airspace. All Russian aircraft returned to their home bases when the mission was completed," the ministry added.