Middle East
Syria
Syrian Army Purges Over 400 sq/km of Hama, Idlib from Terrorists
The terrorist groups in Northern Syria have collapsed after the Syrian Army liberated and cleansed over 400 square kilometers of the region, the Arabic-language media outlets said.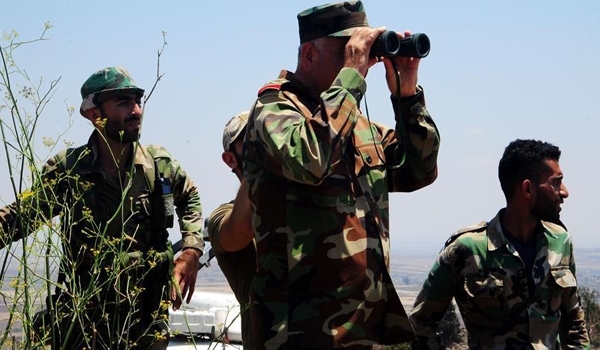 The Arabic-language website of the Russian Sputnik news agency quoted its war correspondent in Northern Syria as saying that during the military operations in Northern Hama and Southern Idlib a vast area comprising hundreds of square kilometers has been retaken from the terrorists.
The report pointed to the massive collapse of the terrorists, specially Jeish al-Izzeh affiliated to Tahrir al-Sham al-Hay'at (the Levant Liberation Board or the Al-Nusra Front), and said that the terrorist groups blame Tahrir al-Sham ringleader Abu Mohammad al-Jolani for the recent defeats.
The terrorist groups have been fully driven out of the city of Khan Sheikhoun in Southern Idlib.
On Monday, the Syrian army managed to enter Khan Sheikhoun after five years.
Also reports said on Wednesday that the local population in Ma'aret al-Numan in Southern Idlib were preparing themselves for the imminent entry of the Syrian Army troops into the city, adding that the people were eagerly waiting for the army's military takeover.
"The next target of the Syrian Arm's military operations is Ma'aret al-Numan after imposing full control over Khan Sheikhoun," Syrian lawmaker for Idlib Province Safvan Qorbi said.
He noted that the residents of Idlib and its countryside are expecting the Syrian Army to arrive in areas occupied by the terrorists, and said that large groups of residents of Ma'aret al-Numan and the city of Saraqib in Southern Idlib have visited the joint Syrian-Russian Command Headquarters for the implementation of peace plan.
Qorbi noted the massive presence of the terrorist groups in Ma'aret al-Numan and the Turkish Army's occupying role in the region, and said that the Syrian Army is prepared to enter Ma'aret al-Numan.
He also pointed to the heavy defeat of the terrorist groups in Khan Sheikhoun city despite massive military backup by the Turkish Army and their retreat from the region, and said that negotiations are currently underway for exit of the Turkish Army troops from areas under its control in Hama.