Syria
Syrian Army Recaptures Four Villages, Kills al-Nusra Leaders in Daraa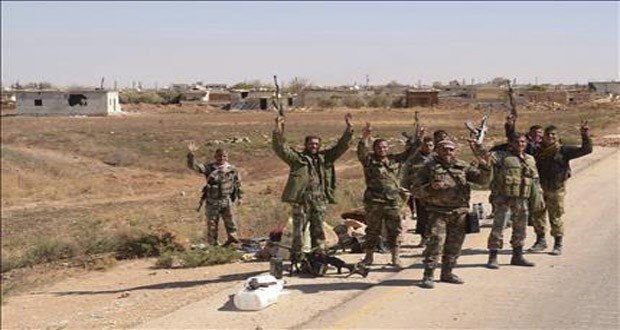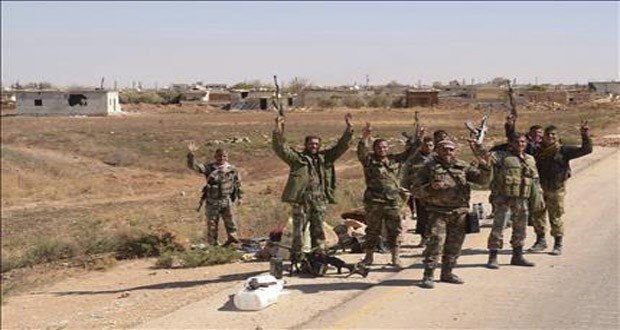 Syrian army recaptured four northwestern villages on Tuesday in a counter-attack on terrorist group operating in the country, the Britain-based Syrian Observatory for Human Rights said.
Syrian air force launched dozens of air strikes overnight into the morning on parts of the Sahl al-Ghab plain seized by takfiris in a new advance this month.
In similar development, units of the army and the armed forces on Tuesday continued to tighten the noose around Takfiri terrorists across the country through launching more operations against them in different areas, killing scores of them and repelling their attacks.
In Sweida, state-run news agency reported that units of the army and armed forces on Tuesday morning killed scores of terrorists of the so-called 'Islamic State of Iraq and the Levant' (ISIL) takfiri group in the eastern countryside of the southern Sweida province.
A military source told SANA that a unit of the army killed all members of a terrorist group in Tal al-Sahin, 40 km to the southeast of Sweida city.
The source added that mortar launchers and vehicles belonging to ISIS terrorists were also destroyed in an operation carried out by an army unit against their dens and positions in al-Qasir village in the northeastern countryside.
In Daraa, army units killed a number of terrorists most of them from al-Nusra Front terrorist organization in Eastern Kark and Daraa al-Balad in the southern Daraa province.
Terrorists Mohamed Shehada, the self- claimed leader of "Al-Madina Brigades" and Fayez al-Fallouja Abu Al-Ezz, Al-Nusra's security official, are killed in army operations in Daraa al-Balad in the southern province of Daraa.
The source confirmed that an army unit establishes control over al-Tabe village in Al-Lajatt area in the countryside of the southern province of Daraa.
In Damascus Countryside, and specifically in Eastern Ghouta, the army's air force destroyed terrorists' hideouts in Erbin and Harasta.
In Homs, the army units, supported by the air force, confronted armed terrorist groups, affiliated to ISIL terrorist organization, while attempting to attack military posts in al-Maqalea area, about 10 km northwest Palmyra city in the countryside of the central province of Homs.
The attack was completely thwarted, scores of terrorists were killed and injured and their vehicles were destroyed with all weapons and ammunition inside them.
In Hama, many terrorists, mostly from al-Nusra Front and the so-called "Ahrar al-Sham Movement" were killed in army air strikes on their positions in several villages in the northwestern countryside of the central Hama province.
The air strikes targeted the terrorists' hideouts in the villages of al-Hamidiyeh, al-Ankawi, Bab al-Taqeh and al-Amiqeh near the border with the northwestern Idleb province.
An army unit destroyed a mortar launcher in al-Sermaniyeh village, in addition to killing 14 terrorists and injuring at least 20 others.
More terrorists' hideouts were destroyed by the army's air force in al-Latamneh town, 35 km to the north of Hama city.
In Idleb, in the countryside of Idleb province, army air strikes were launched against gatherings of terrorists of the so-called "Jaish al-Fateh" and their vehicles in Hamka Hill and the villages of al-Mouzara, Sfouhen, Joseph, Kinsafra, Inneb, Kafr Oweid and al-Ghassaniyeh in the countryside of Jisr al-Shughour.
A number of al-Nusra terrorists were also killed in an army air strike that targeted one of their hideouts in Balshoun village, to the southwest of Ariha city.
Meanwhile, field sources told SANA that an army unit destroyed two vehicles equipped with heavy machine guns on the outskirts of al-Qarqour town in Jisr al-Shughour.
In the southeastern countryside of the province, the army's air force destroyed terrorists' hideouts in al-Mjas village in Abo al-Duhour.
In Lattakia, an army unit targeted dens of terrorist organizations in Kensabba area in the northern countryside of Lattakia province, killing 8 terrorists.
A military source told SANA that three of the killed terrorists were Libyans, noting that a Tunisian terrorist nicknamed "Abo Mosab al-Tunisi", who is responsible for recruiting Tunisian terrorists to fight in Syria, was identified among the dead.
In Deir Ezzor, dozens of ISIL terrorists were killed or injured and three machine guns belonging to them were destroyed in army air strikes in al-Jneineh area in the eastern province of Deir Ezzor.