Syria
Syrian Army Repels Terrorists' Heavy Offensive in Northern Homs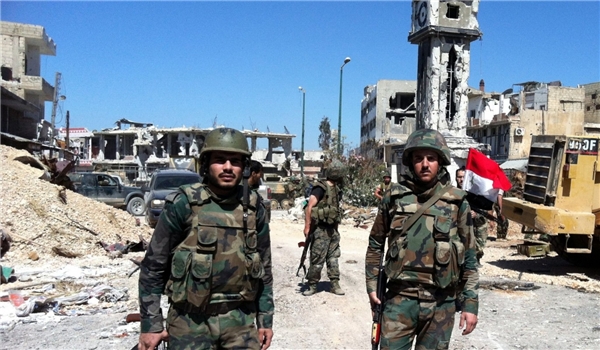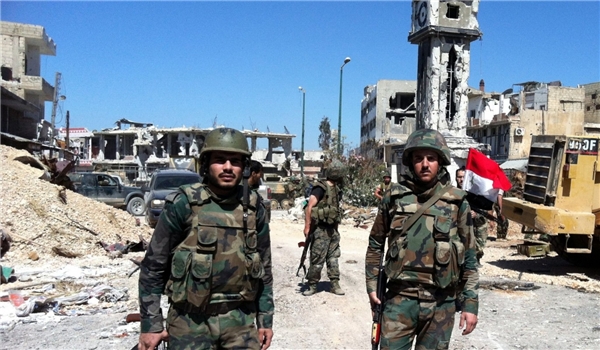 The Syrian Army troops warded off a heavy offensive of the terrorist groups in Northern Homs on Saturday and managed to impose several casualties on the militants.
The army men clashed with the terrorists that attacked pro-government forces' positions in the village of Jabourin from the village of al-Mashrou'a in Northern Homs and managed to fend off their attack after killing a number of them.
In the meantime, heavy fighting is underway between the army soldiers and ISIL in Humeimeh and al-Mo'ayzileh in Southeastern Homs.
Relevant reports said on Friday that the army men exchanged heavy fire with ISIL in Humeimeh region in Southeastern Homs and repelled the terrorists' attacks.
ISIL left behind a large number of forces dead and pulled the remaining pockets of its fighters back from the battlefield.
In the meantime, the army's artillery and missile units shelled terrorists' positions in the villages of al-Ameriyeh, Ein Hossein al-Janoubi and al-Sa'an al-Aswad region after the terrorists violated the ceasefire and targeted the army positions near the village of al-Ameriyeh in Northeastern Homs.
A number of positions and military vehicles of the terrorists were destroyed in the attack.