Syria
Syrian army repels terrorists infiltration attempts in Hama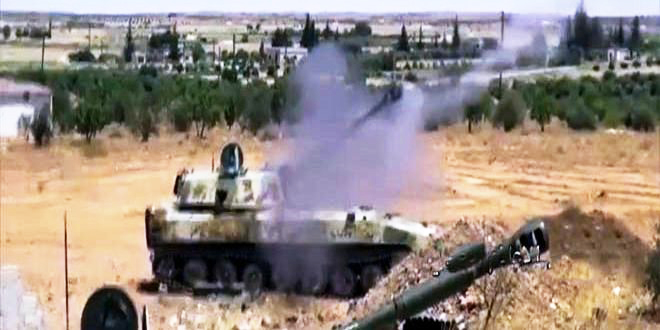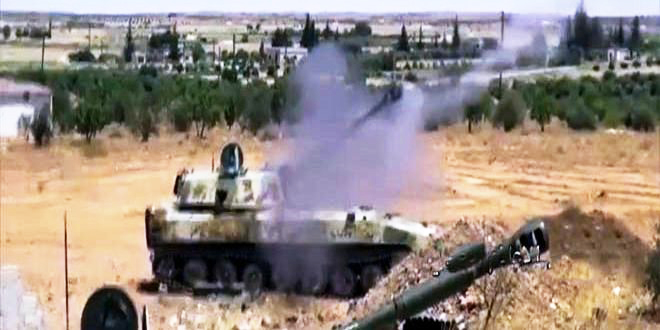 Terrorist groups continued to violate the demilitarized zone agreement in Idleb countryside and Hama northern countryside by infiltrating towards strategic points to attack military posts positioned in the area to protect civilians in the safe villages.
In the surroundings of al-Latamina town, an army unit in the surrounding of al-Zalaqiyat town tracked the movement of a terrorist group affiliated to the so-called "al-Ezza Brigades" terrorist organization towards a number of military posts on the outskirts of the demilitarized zone, SANA reported.
The army unit targeted the infiltrating terrorist group with light weapons inflicting heavy losses among the ranks of terrorists who fled away.
To the north of Mhardeh City, SANA's reporter said that an army unit positioned in the surrounding of al-Hamamyiat village confronted with shells a terrorist group which infiltrated from the surrounding of Tal al-Sakher town towards military posts as a number of terrorists were killed or injured.
The reporter indicated that terrorist groups from the same organization moved from the direction of al-Latamina-al-Zakat benefiting from the thick fog in the early morning to infiltrate and attack a military post on the outskirts of Shalyout village to the north of Mhardeh city.
The reporter added that the vigilance among army personnel who are positioned in the area and the night vision binoculars allowed them to ambush the infiltrating terrorists and to inflict heavy losses upon them in the personnel and equipment while their remnants fled away.