Syria
Syrian army restores security to Homs' Baba Amr neighborhood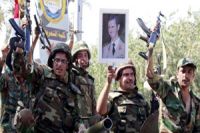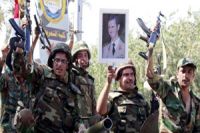 Press TV reports the Syrian army has restored security to Baba Amr neighborhood in the city of Homs several weeks after terrorist groups had entered the district.
Syrian troops also destroyed several militant hideouts in the western city on Monday. The takeover came after terrorist groups affiliated to the al-Nusra Front had run over the area a couple of weeks ago.
Meanwhile, at least two people were killed and several others injured after foreign-backed militants fighting against the government targeted Umayyad Square in the Syrian capital, Damascus.
Other reports suggest that renewed heavy fighting is underway between the government forces and the militants in several areas on the outskirts of Damascus.
Syria has been experiencing unrest since March 2011. Many people, including large numbers of army and security personnel, have been killed in the violence.
The Syrian government says that the chaos is being orchestrated from outside the country, and there are reports that a very large number of the insurgents are foreign nationals.