Middle East
Syria
Turkey
Syrian Army Retakes Control of Terrorists' Key Base in Hama despite Ankara's Opposition
The Syrian army regained control of one of the most important strongholds of the terrorists in Northern Hama despite Ankara's military support for the militants.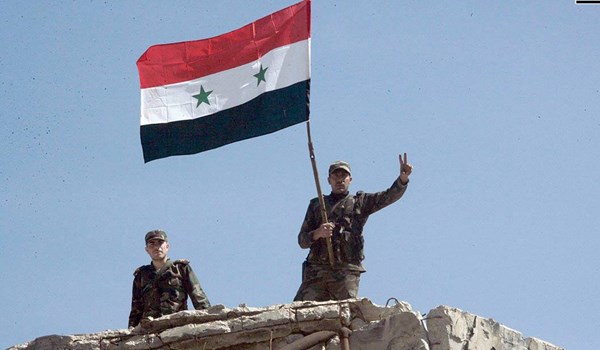 The Syrian army forces, supported by heavy artillery fire, engaged in fierce clashes with Tahrir al-Sham al-Hay'at (the Levant Liberation Board or the Al-Nusra Front) terrorists in the Northern parts of al-Sharia airport in Western Hama on Thursday, taking back control of the town of al-Hawiz, one of the most important strongholds of militants in the region.
Meantime, the Syrian army's artillery and air force units pounded the terrorists' moves and positions in al-Latamineh, Kafr Zita, al-Hawijeh, Jisr Beit al-Ra'as, Jisr al-Shaqour, al-Amiqeh, Ba'arbou, Shahshabou, Haish and Khan Sheikhoun in Northern Hama and Southern Idlib, killing tens of terrorists.
Also, the Arabic-language al-Watan newspaper quoted a source close to the so-called Free Syrian Army (FSA) as saying that Ankara has in the past few days sent a large number of weapons and military equipment, including the US-made anti-tank TOW missiles, to the National Liberation Front and Faylaq al-Sham militants in Idlib through its military officers patrolling in the region.
Relevant media reports said on Wednesday that the Syrian army was preparing to regain full control of the strategic city of Khan Sheikhoun in Southern Idlib and reopen Hama-Aleppo Highway.
The Arabic-language version of the Russian Sputnik news agency quoted a war correspondent as saying that the Syrian army had spread forces to the Southern and Southwestern administrative borders of Idlib in a bid to accomplish its military operations in Sahl al-Ghab region in Northwestern Hama.
The correspondent pointed to the Syrian Army efforts to widen the scope of the military operation, and said that the trend of the military operations showed that the Syrian Army would directly move from the liberated regions in Northern Hama towards the strategic city of Khan Sheikhoun in Southern Idlib.
"Once the Syrian Army captures Khan Sheikoun, the terrorists will be militarily defeated in the town of al-Hobait and Kafar Zita in Northern Hama and will be forced to retreat from these regions," he added.
The war correspondent, meantime, said that Syrian Army advances would also help reopen Aleppo-Hama Highway.