Syria
Syrian Army Seizes Back More Lands in Damascus, Kills 50 Takfiri Terrorists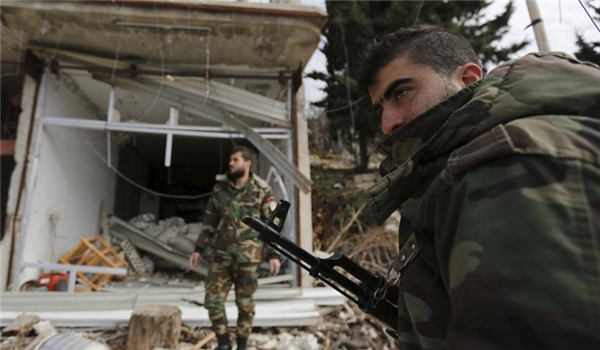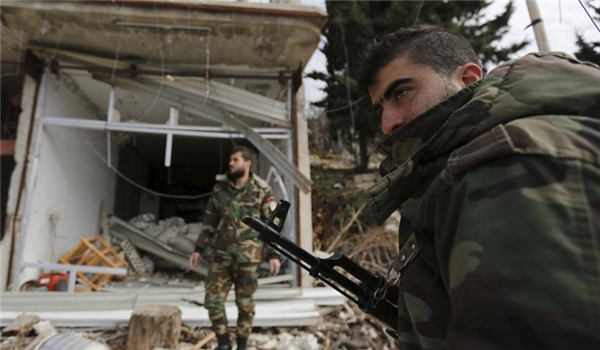 The Takfiri terrorists lost more strategic regions in Eastern Qalamoun in Damascus countryside, and sustained heavy casualties.
The Syrian army liberated 45 square kilometers of territories in Qalamoun region, and killed over 50 terrorists in tough battle.
The ISIL's military vehicles were also completely damaged in the Syrian army's attacks on their military positions.
In a relevant development earlier on Sunday, the Syrian army made considerable advances in Eastern Qalamoun by taking full control of two strategic regions.
The army units seized back Estraha al-Safa and Palmyra (Tadmur)-Baghdad-Jordan triangle in Eastern Qalamoun region after heavy clashes with the Takfiri terrorists.
Scores of terrorists were killed and wounded in heavy clashes with the Syrian army in Eastern Qalamoun.
Meantime, the Syrian army units maintained the security of Sein military airport in Qalamoun region in Eastern Damascus, and killed a large number of ISIL terrorists.
Meantime, the Syrian air force pounded and destroyed the military positions and gathering centers of the ISIL terrorists in Tal Dakwa region in the Northeastern part of Damascus countryside.
Battlefield sources also said that the Syrian air force intensified its attacks on the terrorists' gatherings in Tal Dakwa in the Northeastern part of Beir al-Qasab that is used by the terrorists to launch terrorist attacks on the neighboring areas.
The Syrian fighter jets destroyed the terrorists' military positions and military equipment Tal Dakwa.
Also on Saturday, the Syrian Army and the National Defense Forces (NDF) continued to advance against the terrorist groups in Abu al-Shamat region and restore security to more territories there.
The Syrian pro-government forces stormed the terrorist groups' strongholds in al-Badiyeh Cement Company and the scientific research center and forced the terrorists to retreat from the battlefield.
The terrorist groups left behind scores of the dead and wounded members and fled the battlefront.
Also on Friday, the Syrian Army and the NDF, in a rapid counter-attack, forced the ISIL terrorists to retreat from more territories near al-Dumeir airbase after leaving behind tens of dead and wounded members.
The Syrian government forces, who had successfully fended off the ISIL attack on al-Dumeir airbase, stormed the terrorist group and liberated the hilltop of Tilal Kassarat in Abu al-Shamat and its nearby Quarry.