Syria
Syrian Army strikes major blow at rebels in Idlib, Daraa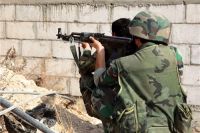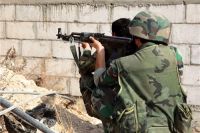 The Syrian Armed Forces inflicted heavy losses on Takfiri militants in Idlib and Daraa provinces, killing and injuring scores of them.
The army soldiers made gains in their confrontation with the armed groups in the nearby areas of Idlib, and managed to kill too many militants in Maa'ret al-Nouman, Magharet Mirza, Tal Toucan and Abu al-Duhour.
Ayn al-Barida, Darkoush, al-Zanbaqi, Korein, Nahla, al-Habbat, Tal Dinait, Kifr Najd, and Qar' al-Ghazal were also among the areas in Idlib, which were cleared of the insurgents by the army.
Meantime, the army struck a heavy blow at the militants on the outskirts of Daraa province and claimed the lives of huge numbers of them in Deir al-Adas, Tal Saqee, Tal Masyah, al-Habbaryeh, al-Nu'aima and Tal Maari.
As the foreign-backed insurgency in Syria continues without an end in sight, the US government has boosted its political and military support to Takfiri extremists.