Syria
Syrian Army strikes severe blow at militants in Homs, Quneitra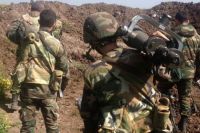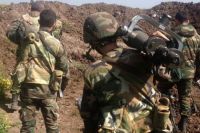 The Syrian Army stormed the strongholds of the militants in a series of operations in the countryside of Homs and Quneitra, killing and injuring a large number of them.
The Syrian soldiers pushed backed the rebels in a number of areas in Homs countryside, including Muhandessin, Deir Fuul and Qasr Ibn Wardan and killed many of them, SANA reported.
The insurgents' gathering centers were also targeted in the Southern province of Quneitra in a number of successful operations carried out by the army in which many of the rebels lost their lives in al-Khazragieh in Sa'sa', al-Samadanieh al-Gharbieh, Rasm al-Shouli, and Jabata al-Khashab.
The rebels' hideouts were also targeted in the vicinity of al-Alam district, Akraba, al-Hejjeh, al-Sweiseh, Nabe' al-Sakhr, Tal Antar, Tal Qreen and Tal al-Allaqiyeh.
Syria has been the scene of massive fightings between the government of President Bashar al-Assad along with the country's armed forces with foreign-backed extremist groups since 2011 when the western countries and their regional allies' meddling triggered an over three-year-long civil war in the Middle-Eastern country.
Based on the UN statistics, the country's death toll has passed 190,000, while millions of civilians have been displaced both inside and outside of Syria.