Syria
Syrian Army Takes Back Control of Strategic Town in Hama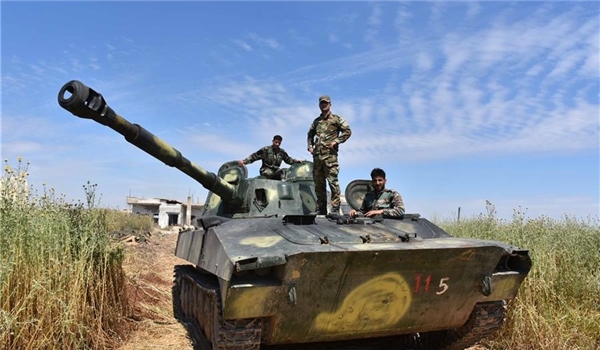 The Syrian Army in an ambush operation against Tahrir al-Sham al-Hay'at (the Levant Liberation Board or the Al-Nusra Front) regained control of strategic Kafar Naboudeh town after killing tens of terrorists.
The Syrian Army won control over Kafar Naboudeh only a few days after it made strategic withdrawal from the key town.
The Damascus Army's artillery and missile units launched heavy attacks on Tahrir al-Sham's military positions and movements in Kafar Naboudeh in Northwestern Hama and took control of the town, the Arabic-language website of Sputnik news agency reported.
Meantime, a military source also announced that the army troops also managed to kill at least 30 terrorists and also destroy their military vehicles.
The source also said that the Syrian Army has started strengthening its point in the town and cleanse the region from remaining terrorists.
On Thursday, field source in Northern Syria said that the Turkish army forces stationed in truce-monitoring points in Shir al-Maqar in Jabal Shahshabou in Northwestern Hama had cooperated with the terrorists in their recent attacks on the town of Kafar Naboudeh.
The Arabic-language al-Watan newspaper quoted the sources as saying that Tahrir al-Sham al-Hay'at and Turkistani party were logistically supported from Shir al-Maqar region in their move towards the Syrian army positions in Kafar Naboudeh, adding that the Turkish soldiers participated in the terrorists' offensives by artillery and missile fire on the Syrian army.
They noted that the Turkish monitoring points in Northern Syria are used to monitor the Syrian army moves and military and logistic assistance to the terrorists, adding that a joint operation room consisting of Tahrir al-Sham, National Liberation Front, Turkistani Party, Jeish al-Izza, Jeish al-Ahrar and other terrorist groups has been formed.
Meantime, the Arabic-language service of Sputnik quoted a field source as saying that the Syrian army forces withdrew from Kafar Naboudeh on Wednesday after the terrorists' repeated attacks.
He added that all terrorists' moves are within the range of the Syrian army's fire, noting that the army has strengthened its positions in Tal Hawash and other fronts in Northern and Northwestern Hama to retake the region.