Syria
Syrian Army Takes Back More Lands From Terrorists in Northern Hama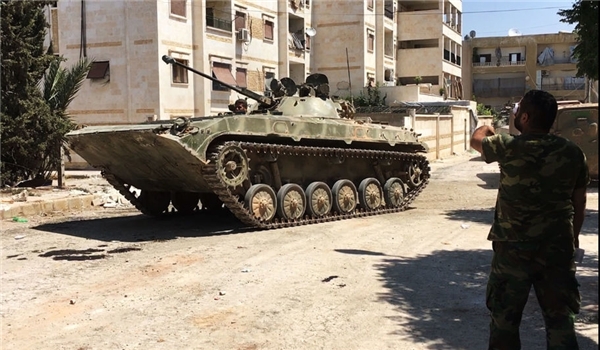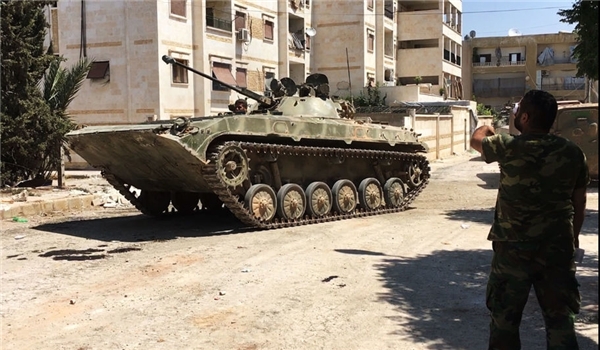 Syrian Army soldiers continued to beat back the terrorist groups from their positions in Northern Hama, capturing a main base in the Northern side of the newly-liberated town of Ma'ardes.
Syrian military forces, in a fresh round of operations to liberate the towns of Souran and Taybat al-Imam, pushed the terrorists back from a key base along Ma'ardes road to Kawkab.
A large number of Jeish al-Ezza and Abna al-Sham's militants were killed or wounded in the attacks.
Military analysts believe that recapture of this base will pave the way for the easier liberation of Taybat al-Imam and Souran.
Syrian soldiers have now been deployed to the surroundings of Souran to carry out the next phase of the operation there.
Reports said earlier today that the Syrian Air Force launched fresh rounds of combat flights over Jeish al-Fatah's strongholds in Northern Hama, killing at least fifty terrorists including six field commanders.
"Jeish al-Fatah commanders Akram al-Hasyan, Mar'ei al-Din Rahal and Ahmad Jamil al-Saleh alongside 18 other terrorists were killed in the Syrian fighter jets' bombardments in Souran.
"Ahmad Abdul Razaq al-Hawash, Khalid al-Hasyan and Khalid al-Amouri were also killed alongside 27 of their comrades in the Syrian warplanes' attacks on Jeish al-Fatah'centers in Taybat al-Imam, al-Lahaya, al-Boyzeh, Ma'arkbeh, al-Latamina, Morek, al-Masaseneh, North of al-Naseriyeh hill and East of Tal Bazam," the sources added.
"Three tanks in Taybat al-Imam, two armored vehicles in Morek and three machinegun-equipped vehicles in Souran were damage in the air raids," they went on to say.
"Also several armored vehicles of the terrorists were targeted and damaged in the air raids in Taybat al-Imam, Morek, Souran and al-Latamina," the sources said.