Syria
Syrian Army targets headquarters of "al-Nusra Front" in Edlib countryside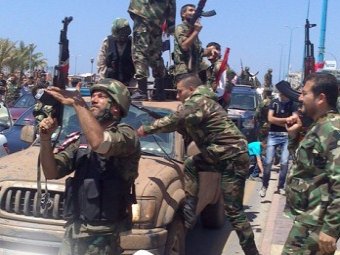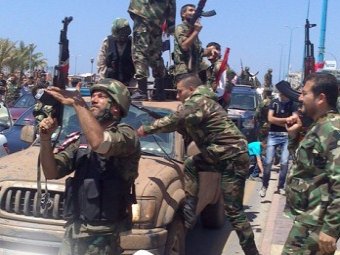 The units of Syrian Army reopened the route of Tartus –Lattakia – Banyas back and forth after securing and combing it from the remnants of "Free Army" militia.
As the army units have closed the road after the stationing of a number of snipers that have tried to target the pedestrians and civilian cars.
Breaking News correspondent reported that during the Syrian Arab Army's military campaign on Banyas militants, some residents evacuated their homes, as other people entered the houses and stole it, especially on Sunday after the army came out of some areas.
The correspondent pointed that, once elements of the army knew this matter. this made them to station on the international route at the intersection of Banyas – Latakia back and forth and have a search for cars and seized a number of stolen goods, and at the presence of Breaking News Network reporter and a number of people they arrested thieves and take them to prison.
One of the elements of the Syrian Army said to Breaking News Network reporter that who made ​​this, whatever their religion they insult to the reputation of the military institution, including harm to their reputation of being just thieves.
It is noteworthy that the Syrian Arab Army units have completely dominated neighborhoods of the city of Banyas, Ras al-Nabe' and al-Bsyda of Tartous countryside.
Wide operations of the army in several regions and villages in Aleppo
Furthermore, our correspondent in Aleppo said that the Syrian Arab Army units carried out a series of operations and extensive al-haidariya, al-Muslimiah, Meng and al-Lairamoun, what led to the killing and wounding dozens of gunmen.
The correspondent pointed out that army units clashed with gunmen near the glass factory, Hilan and in villages of al-Alghemiah, Tunaibh and Meng of Aleppo countryside that led to the killing and wounding a number of militants, while another number have been arrested.
The army targets several headquarters of al-Nusra Front in Edlib countryside
Breaking News correspondent confirmed the death of more than 22 militants from al-Nura Front after targeting the army to a gathering into the lounge joys in Salqin border city of Edlib countryside, while the units targeted residential building under construction transformed by elements of al-Nusra Front a base East automation furnace in the town of Esqat in Salqin countryside,what led to the destruction of a full, in addition to destroying a vehicle and a BMB trolley that militants had seized from the military Engineering College in Aleppo a few days ago.
Breaking News correspondent pointed to the targeting of the Syrian Arab Army artillery to several headquarters of the gunmen in villages of Sarmin, To'oum, Binnish and Taftanaz of Edlib countryside, killing and wounding dozens of militants, as two snipers were stationed at the western entrance to the city of Areeha has been killed, including Fadel Mustafa Hamji.