Middle East
Syria
Syrian Army Troops Arrive in Lattakia for Offensive on Tahrir Al-Sham's Military Base
The Syrian Army's fresh soldiers and military equipment arrived in Lattakia to capture a strategic region as other units of the army are in operation in the Northeastern part of the province.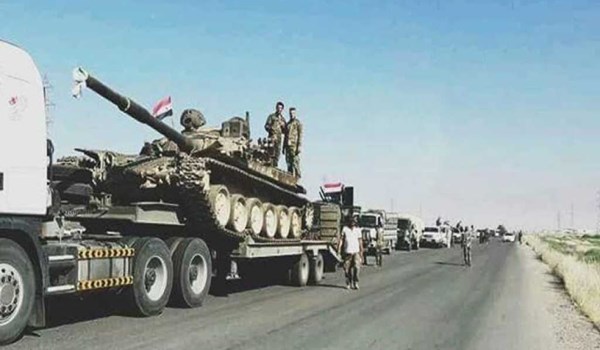 The Syrian Army has recently dispatched a large number of its special forces together with military hardware to Kabane region in Northeastern Lattakia.
The Syrian Army plans to impose control over the Strategic Kabane region. The army's artillery units have pounded the military positions of Tahrir al-Sham al-Hay'at (the Levant Liberation Board of the Al-Nusra Front) in Kabane region and its surrounding hilltops over the past two days, destroying several of their positions and tunnels.
Meantime, sources said that the Syrian Army's artillery and missile units hit hard the battlefronts of Tahrir al-Sham stretched from Sahl al-Ghab to Northeastern Lattakia, inflicting heavy losses on the terrorists.
In a relevant development on Monday, media reports said that the Syrian Army had reinforced troops to gain control over a key and important region in Northern Lattakia as the government forces had given a crushing response to the terrorist groups' attacks on safe zones in Northern Hama.
Field sources in Northern Syria said that the Syrian Army has stationed a large number of troops and military equipment near the strategic town of Kabane in Northern Lattakia.
The sources pointed to the Syrian Army's artillery attacks on terrorists' military positions in the region, killing and injuring at least 10 Turkistani Party terrorists, and said that a large number of terrorist-controlled areas will collapse after the Syrian Army regains control of the region.
The terrorists attacked a school in the city of al-Saqilbieh in Northwestern Hama, killing and injuring, at least, 11 children and women. The Syrian Army's artillery and missile units responded by hitting their military positions and movements in the towns of al-Hobait, the surrounding areas of the town of Shir Mughar and Jisr al-Shughour in Northern Hama and Southern Idlib, destroying several of their positions and hideouts as well as killing a number of militants.
Meantime, the Arabic-language al-Watan newspaper reported the Syrian Army's artillery units attacked a group of terrorists who intended to penetrate into the government forces' military points in Kafar Naboudeh in Northern Hama, killing all the terrorists.