Syria
Syrian Army Troops Take Control of Key Roads in Northwestern Damascus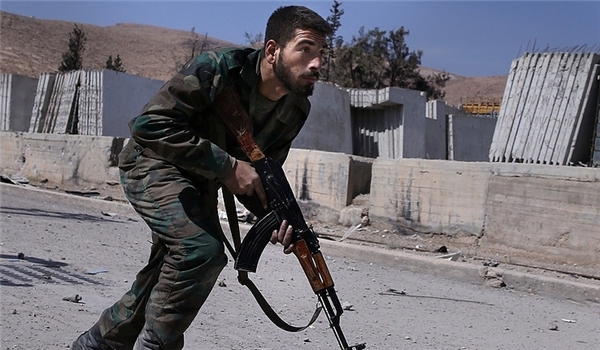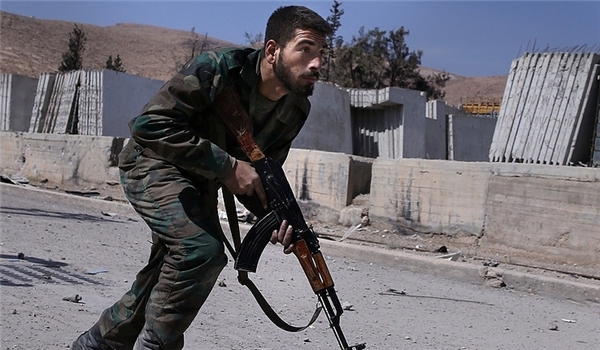 Syrian Army soldiers, backed up by the country's air force and artillery units, stormed terrorists' positions in Wadi al-Bardi region, taking control over key roads in Western Ghouta, a military source reported Wednesday.
The source said simultaneous with air raids and artillery shelling, the army soldiers struck terrorists' defense lines and won control of several roads connecting the region's towns to hillsides in Wadi al-Bardi region.
A military source said that the army has taken control of a large number of buildings since the start of its operations from the town of Basimeh towards Wadi al-Bardi and killed tens of terrorists.
"A large number of militants also flee from Basimeh towards Deir Qanoun every day due to the army's advances in the region," the source went on to say.
Some other sources said that the Syrian government has been involved in negotiations with the militants in order to save the lives of the civilians that have been kidnapped by the terrorists and also prevent destruction of infrastructures of the towns in the region, as some of the terrorist groups have not joined the peace plan thus far.
The source also added that the army has assured that once the terrorists halt their attacks on the water reservoirs in Ein al-Fijeh, the army soldiers will provide security for the militants to leave the region to Idlib.
Field reports said on Tuesday that the army troops were about to start a fresh round of large-scale operation in Wadi al-Bardi in Western Damascus after terrorists refused to join peace talks with the government,.
According to reports, terrorists' movements in Wadi al-Bardi were increased and in return the army was preparing to carry out a vast operation to purge the militants from the region.
The army's artillery units started shelling terrorists' centers in Wadi al-Bardi in Northwestern Damascus.
In the meantime, missile units and army aircraft pounded terrorists' positions.
Clashes in the regions of Souq Wadi al-Bardi, Ein al-Fijeh and al-Hosseiniyeh were underway simultaneous with artillery and missile shelling.
Wadi al-Bardi is a region that overlooks Western mountain of al-Qalamoun region and is located almost 20 kilometers to Damascus. Al-Qalamoun chain mountains have laid along joint border of Syria and Lebanon from where the terrorists were previously penetrating into Syria's soil form Lebanon, smuggling weapons.
Wadi al-Bardi is of strategic importance because it is home to a large volume of drinking water reservoir.