Syria
Syrian Army's New Military Convoys Arrive in Hama Province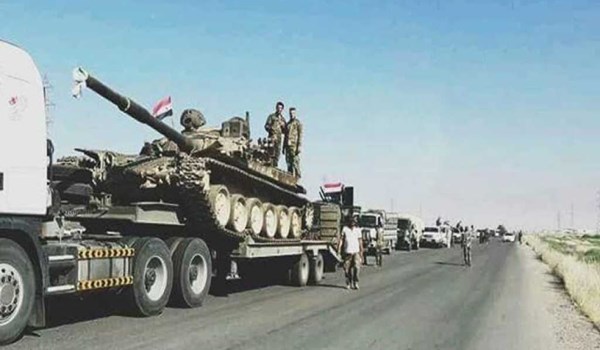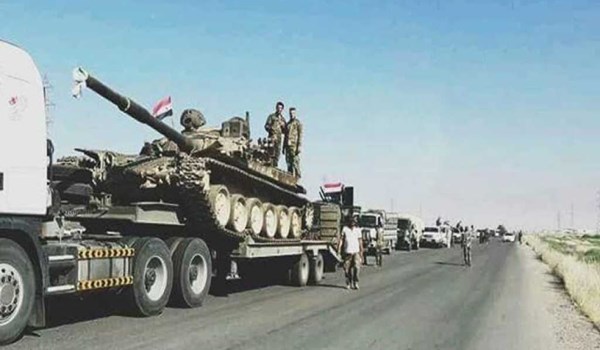 The Syrian Army's fresh convoys, comprising new military equipment and hardware, arrived in Northern Hama as terrorists continue attacks on government forces in the region from the demilitarized zone.
"The Syrian Army dispatched a military convoy comprising tens of military vehicles, tanks and military hardware as well as hundreds of army soldiers and officers to Souran region in Northern Hama," battlefield sources said.
The sources pointed to Syrian Army's reinforcement in Hama and Idlib fronts, and noted that reinforcement of the Syrian troops is taking place in line with preparation for battles in Northern Syria.
The Syrian Army's artillery units, meantime heavily pounded the movements of Jeish al-Izza around the villages of Hasraya, al-Sakhar, Kafar Zita, North of Mahradeh region in Northern Hama, inflicting heavy losses and casualties on the terrorists.
The Syrian troops also targeted and pounded Tahrir al-Sham al-Hay'at (the Levant Liberation Board or the Al-Nusra Front) terrorists in the outskirts of the town of Mourek in Northern Hama, preempting their impending attack on government forces.
In a relevant development on Saturday, the Syrian Army dispatched new military convoys from Deir Ezzur province in Eastern Syria to Hama in the Northern parts of the country to prepare for military operations there.
"Massive military convoys of the Syrian Army comprising hundreds of soldiers from different divisions, including 5th Division, along with military equipment and hardware have been sent to the Northern fronts of Hama province from the cities of al-Mayadeen and al-Bu Kamal in Eastern Deir Ezzur," battlefield sources in Northern Syria said.
The sources noted that the military convoys had been sent to Deir Ezzur from Northern Hama and Eastern Idlib after the Sochi Agreement.
They reiterated that the Syrian Army has reinforced its positions and forces in all villages and towns of Hayalin, Talmalh, al-Jabin, Sheikh Hadid, al-Moghir, Bridij garrison and al-Jurnia in Western Hama over the past two days, and said that there is a strong likelihood that the Syrian Army will launch massive operation in Idlib province soon.
Meantime, military convoys of the Turkish Army comprising tanks, military vehicles and commando units, have arrived at Turkey's border with Syria across Idlib province.
In a relevant development last Tuesday, the Syrian Army foiled further attacks from the demilitarized zone by Tahrir al-Sham al-Hay'at and their allied terrorist groups in Northern Hama and Southern Idlib.
The Syrian Army's artillery units prevented members of a terrorist group who were trying to penetrate into the army positions in Northern Hama from the surrounding areas of Ma'arkabeh town, killing and injuring several terrorists and forcing many others to flee the scene.
Meantime, the Syrian Army's artillery units pounded the terrorists' movements in the outskirts of Wadi al-Dorat and Al-Zuka in Northern Hama.
Other Syrian troops also targeted Jeish al-Izzah terrorists' movements from al-Latamanieh town towards military points in Northern Hama, inflicting major losses on them.
In Southeastern Idlib, the Syrian Army's artillery units pounded Tahrir al-Sham positions and movements in Tal Khatareh, Tal Kolbeh and Al-Zarzour, killing a number of them and destroying several positions of the terrorists.